90's Nostalgia – The Spice Girls Revolution
I love a bit of 90's nostalgia so when I was asked to write a post around it couldn't say no! This is a sponsored post but all words are my own. I may actually start off a whole series around 90's nostalgia from this.
It seems like a perfect time to start writing about this topic though. Is it just me or do you feel like you've gone back in time just lately?
The cinemas seem to have a constant flow of Disney films and I've just bought tickets to see 5ive. It just feels like the 90's are back, the only problem being, I'm now 32, not 12.
I know they say era's come back into fashion but it seems a bit soon for the 90's doesn't it?
It is easy to forget that we celebrated the Millennium 20 years ago this year though. It doesn't seem like it was that long ago! I still remember the sparkly dress I wore and playing with the Juke Box at my Mum's friend's house.
One of my fondest memories of the 90's is of course The Spice Girls. My other half made a comment the other day which got me thinking. He said he didn't realise that they only released two and a half albums. Given these girls were global sensations, they weren't really around for that long.
They have of course toured the UK recently (minus Posh but that's no surprise really, she never looked like she was enjoying it anyway!) and it was an absolute sell out! It just shows how much of an impact they had in the 90's. How old does it make you feel when I say it's been 22 years since PepsiCo first worked with the Spice Girls? Did you catch this advert recently?
Yes, the Spice Girls are back doing adverts!
Their fame in the 90's was almost instant. As soon as Wannabe landed they were stars! We'd never seen anything like them and we all wanted to be a Spice Girl! I personally wanted to be Mel C (Sporty) and I had an outfit very close to that from the Say You'll Be There video. Including platform trainers!
My Sister, friends and I would spend hours making up dance routines and singing along to their music. We even made Ninja Death Stars out of cardboard and tinfoil so we could imitate a video. The Spice Girls were so much more than a girl band, they were inspirational. "Girl Power" gave women around the world a new voice and inequality of the sexes was thrown into the media.
The Spice Girl hype only lasted for 4 years though. That's actually a very short space of time for musicians of their calibre and influence. There were clearly some issues and friction between the girls behind the scenes. As soon as Geri left, things just weren't the same. We never lost our love for Spice Mania really though. Or is it just our love for childhood memories?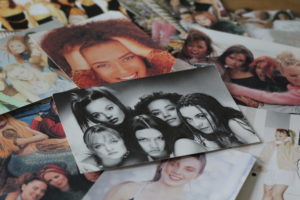 Either way, the Spice Girls were a huge part of my childhood and a massive part of 90's nostalgia full stop. I am a little gutted I didn't get to see them live, I might have to watch Spice World and have a little giggle over the double decker bus jumping tower bridge instead. I feel like my children need educating too!
What reminds you of your childhood? Were there any particular bands that had a big influence on you?