Healthy Doner Kebab – Not really words you tend to hear together. But it is possible!
I used to quite enjoy a dirty doner after a night out but the diet life put a stop to that… Shortly followed by the Gluten Free life.
You just can't guarantee what's in one of those huge, rotary lamb slabs. But I'm guessing it's about 95% fat and the rest is probably breadcrumbs.
Even if I could eat gluten, the amount of fat dripping from them now puts me off anyway. I'm just not a fan of proper greasy food any more. It always made me feel rubbish and I refuse to let food do that to me again.
Now traditionally a doner is made with lamb but mine isn't. Getting low fat lamb is near on impossible but 5% fat pork mince is everywhere. Not that you can tell a difference once the meat is seasoned.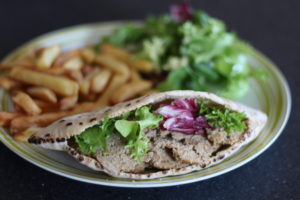 Ingredients
500g Low Fat Pork Mince
1 Tsp Cumin
1 Tsp Ground Coriander
1/2 Tsp Mild Chilli Powder
1/2 Tsp Smoked Paprika
1/2 Tsp Dried Oregano
1/2 Tsp Onion Granules
1/2 Tsp Garlic Granules
Large Pinch Of Black Pepper
Large Pinch Of Salt
Method (Serves 4)
Healthy Doner Kebab is so simple to make. Grab yourself a big mixing bowl and add all of the above ingredients.
Get your hands in and squish and mix everything together. Keep going until the meat looks completely smooth and the seasoning seems throughly dispersed throughout.
Line a loaf tin with foil then shape the meat in it. If you don't have a loaf tin then don't worry. You can still shape the meat into a loaf-like shape and pop it in a foil lined roasting tin instead.
Cover the loaf loosely with foil then pop it in the oven on 180° for an hour.
When it's cooked through, slice the meat as thinly as you can manage then serve however you like.
My personal favourite is in a gluten free pitta with chips and covered in garlic sauce.
Perfect for a Saturday night! Though I would advise cooking this prior to a night out as it wouldn't be so easy after a few too many sherberts.
If you fancy a different type of Fakeaway then why not try my KFC style chicken strips.