These KFC Style Crispy Chicken strips are a firm favourite in our house. They taste just as good as their greasy counterparts, if not better! Even the kids agree so they must be good!
I do now make my KFC Style crispy chicken with gluten free bread. It means I can eat them without the stomach ache. Something I don't think I'll ever manage with the real KFC!
You will ideally need a food processor for this recipe to make breadcrumbs. I tried making it using a hand blender once…. It didn't go too well.
We love a Fakeaway and I have more recipes to try. How about a bit of Chinese with my Satay Chicken recipe?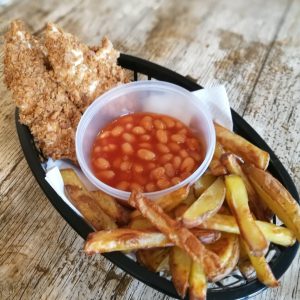 Ingredients
A pack of mini chicken fillets
1 and a half/2 slices of bread (from a normal 800g loaf)
1 whisked egg
2 tsp of mixed dried herbs
1 tsp of garlic powder
1 tsp of onion powder
1 tsp of chilli
Pinch of pepper
Method
Slightly toast the slices of bread then when cooled rip them up and pop it in a food processor. Add the herbs and spices then whizz it all up to make breadcrumbs.
Sprinkle a layer of breadcrumbs at a time on to a plate and have a cooking spray covered baking tray at the ready.
Dip each chicken fillet into the whisked egg then roll in the breadcrumbs till completely covered and pop on to the baking tray. Do this with all the fillets then spray a couple of squirts of cooking spray over the top. Bake in the oven on 180° for 20-25 minutes until golden brown.
Serve with homemade chips and beans for an authentic Fakeaway.