I will probably have American's say that I've ruined their classic dish here but I like it, and it's healthy!
It was actually Mr's fault I made this recipe, I had some 5% fat mince that I didn't really know what to do with and we didn't fancy Bolognese or Chilli again. He googled "recipes using mince" and one of the things that came up was Sloppy Joes. I checked the recipe and realised I could make that to suit my diet! I have used gluten free worcestershire sauce and a gluten free roll for mine but of course these can made using proper worcestershire sauce and a wheat roll.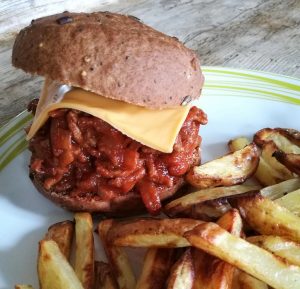 Ingredients (Serves 4)
500g of lean 5% fat beef mince
1 onion
1 500g carton of passata
2 tbsp of worcestershire sauce
1 tbsp tomato puree
1/2 tsp garlic powder
1 tsp mild chilli powder
1 tsp paprika
Salt & pepper to taste
4 bread rolls
Method
Start by dicing your onion and then warm a frying pan sprayed with low calorie cooking spray over a medium heat. When the pan is warm chuck the diced onion in and fry off for a few minutes until softened.
Add the mince and fry till brown. Add the garlic powder, chilli and paprika and stir them in, coating all the mince. Add a 1 tbsp of the worcestershire sauce and stir into the mince and onion then add the carton of passata, the tomato puree and the rest of the worcestershire sauce and give it all a good stir.
Add salt and pepper if required then simmer the sauce, stirring every so often, for around 15 minutes until it has thickened enough that it won't soak your bread.
Serve topped with cheese, in a roll with a side of homemade chips….  Perfect!
Looks and tastes naughty but is totally healthy!
Enjoy!
If you did enjoy this recipe then please do leave me a comment. If you want to to save the recipe for later then Pin the image below.