Mini Egg Cookie Bar – An Easter Treat
I've been meaning to write up a Cookie Bar recipe for ages. It's based on one of my older recipes and I've actually made a few now! This means I know the recipe works and it works well. I decided to give it an Easter twist by making a Mini Egg Cookie Bar.
So as I said, this is based on one of my older recipes. The Thumb Print Biscuits to be exact. The base biscuit is vegan friendly if you use the right margarine. So you can easily switch out the Mini Eggs for a vegan alternative if needed.
My version is of course Gluten Free too. Not that you'd ever be able to tell! They're crispy but chewy, just how a good cookie should be.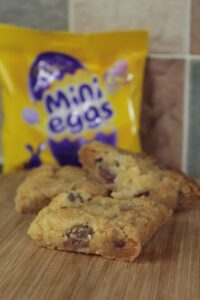 You can change this Mini Egg Cookie Bar to be whatever you want it to be which is awesome! I've made double chocolate cookie bars and actual cookies using this recipe so play with it as much as you want!
Utensils used to make a Mini Egg Cookie Bar:
Kitchen Scales
Large Mixing Bowl
8″ Square Tin
Baking Paper
Fork (but an electric whisk would be quicker and easier!)
Rolling Pin
Ingredients (Makes 1 Cookie Bar that cuts into 9)
Method
150g Gluten Free Self Raising Flour
100g Baking Block Margarine
100g Caster Sugar
1tbsp Golden Syrup
80g bag of Mini Eggs
Start by pre heating your oven to 160°c.
Add the margarine and sugar to your mixing bowl and cream together. It is easier if your Marg is softened and doesn't come straight from the fridge… I know this because I made that mistake! It is also easier if you have an electric whisk to do this. But I don't, so I use a fork. I class it as some exercise!
Once they're nice an smooth, add the Golden Syrup and half the flour. Give it all a good mix again then add the rest of the flour and mix. Adding the flour a bit at a time just makes sure it's well distributed. If you're using an electric whisk you can probably add it all in one go.
You should have a nice thick dough now. Take your closed bag of Mini Eggs and you rolling pin. Smash the bag with the pin until you feel all that pent up anger has been released. Actually…. Probably not quite that much. You want them broken, not turned to dust.
Open the bag and empty the contents in with your dough. Give it another good mix or squidge with clean hands.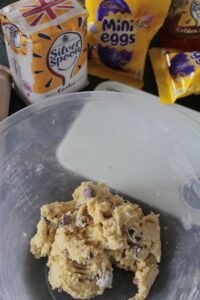 Line you square tin with the baking paper. I always use pegs to keep the paper in place while I add the cake. Just don't forget to remove them before it goes in the oven! (No, I haven't made that mistake but I can imagine it wouldn't taste great).
Plop your Cookie Dough into the tin and push it down to spread it out a little. It will spread slightly in the oven so don't worry about making it perfect. Just get it slightly even.
Pop it in the oven for around 20 minutes or until the top is a nice golden brown. Just keep an eye on them towards the end as they can burn quite easily.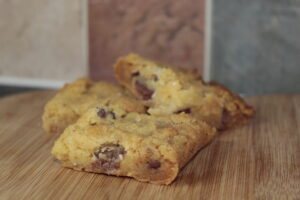 Once cooked, remove from the oven but leave to cool in the tin for 10 minutes. After 10 minutes, lift the Mini Egg Cookie Bar from the tin and slice while still warm. Leave to cool for a bit longer otherwise they will just fall apart! Or you could use a spatula to lift a slice and serve with ice-cream while still warm.
And that's it! Simple hey!
If you make them, or any version, then let me know what you think!
Have a happy Easter!