The Best Slow Cooker Beef Casserole
Now, I've called it The Best Slow Cooker Beef Stew but this would be controversial in my family.
My Mum makes a different version that has been the favourite for years but I decided to veer off from the family recipe and make my own.
To be fair, they are completely different recipes. They share a couple of similar ingredients but the taste is completely different.
Another reason I call it The Best, is because of one of the ingredients. You HAVE to use Bisto Best beef gravy. It's by far the best tasting "instant" gravy and it's gluten free too! Just make sure you use a gluten free alternative for the worcester sauce too.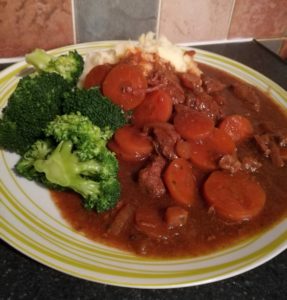 So anyway, here's how to make it…
Ingredients (Serves 4)
400g of stewing beef
1 Onion
2 large carrots
A big handful of frozen diced swede
600ml of boiling water
2 beef stock cubes
1 large tbsp of tomato puree
2 tbsp of worcester sauce
1 tsp of dried parsley
2 bay leaves
3 tsp of Bisto Best gravy powder
Method
You couldn't get much simpler really.
Slice your onion and carrots and chuck them in the slow cooker. Add the beef and crumble in the stock cubes.
Next, pop a big handful of frozen diced swede in. I will state, I use frozen stuff because it's easier. I've nearly lost fingers trying to dice fresh swede! I love the stuff but it's just too much effort. Especially when it's 7am and I'm sorting dinner before work.
Anyway, I digress. Pour in the boiling water then add the tomato puree, worcester sauce, parsley and bay leaves.
Give it all a good stir, pop the lid on and set the slow cooker to low. Leave it for 7-8 hours.
About 30-45 minutes before you dish up add the gravy and give it a good stir again. This will thicken the casserole and just finish it off beautifully.
Serve with mashed potatoes and vegetables or whatever else you fancy.