Rosemary And Garlic Baked Fries
Making crispy oven baked fries is like winning gold at the Olympics in the slimming community. They do take practice and everyone has their own way. These Rosemary and Garlic Baked Fries are one of my favourite ways of doing them.
Air Fryers have become one of the most popular kitchen gadgets but I just don't have the storage space for one. And quite frankly, I don't think I could get one big enough to do chips for my whole family! We like a big portion of chips.
I have moved over to using oven chips lately, just for convenience but I do still love a good baked chip. I made my Rosemary and Garlic Baked Fries for lunch a couple of weeks ago as it was what I fancied. They are so tasty and perfect for dipping in my favourite sauce.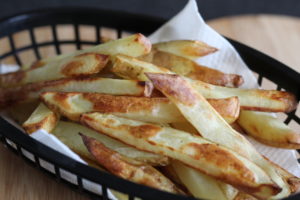 You can of course make wedges exactly the same. You just cut the potatoes differently.
Ingredients (Serves 4)
4 large baking potatoes
Garlic Granules
Dried Rosemary
Salt
Method
Start by chopping your potatoes into chip shapes. I do mine by cutting the potato, lengthwise, into roughly 1cm slices. Then cut each slice again into chip shapes.
Give your chips a wash in cold water to remove some of the starch. You can leave them sat in a bowl of cold water if you don't need them straight away. The water stops them from going brown.
Dry off the chips on some paper towel. Spray a chip tray with cooking spray and put a the chips on top. Give the chips a little spray too then sprinkle over the Garlic Powder, Rosemary and some Salt.
Pop the chips in a preheated oven on 200°C for around 40 minutes. Turn the chips at least twice during this time. Give them a shake and another spray of cooking spray if needed. You can also add more seasoning if you fancy it too.
Once the chips are a nice golden brown colour, serve them with whatever you fancy. On their own or try my Homemade KFC Style Chicken Strips or Epic Double Cheeseburger.
Enjoy!