Healthier Lemon and Coriander Hummus
It's probably the wrong time of the year to be making a new hummus recipe but I had some while I was away at the weekend and got a real taste for it again.
I was on holiday though so keeping an eye on the calories I was consuming had gone out the window. This meant, I needed to make a lower calorie, low fat version of course!
I can guarantee I will keep tweaking this recipe as I always do. I thought I'd share it though as this makes such a tasty lunch or snack!
You will need a blender of some description to make this.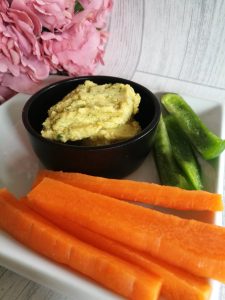 Ingredients
1 Tin of chickpeas
1 unwaxed lemon
A bunch of fresh coriander
2 tbsp of fat free natural yoghurt
Half a tsp of garlic powder
Pinch of salt.
Method
You genuinely couldn't get an easier recipe than this!
Drain the chickpeas and pop them in your blender. Grate the rind of your lemon into the blender. Cut the lemon in half and squeeze the juice into the blender being careful not to drop any seeds in there.
I use my hands to squeeze lemons but do be careful if you have any cuts on your hands! I didn't realise I had a small one on my knuckle but gosh did I know about it!
Tear up about 10 sprigs of coriander, stalks and leaves, and pop them in the blender too.
Add your garlic and salt then give it a whizz! You will find you will have to keep scraping it off the side of the blender.
Once it's all roughly mixed together, add the yoghurt and whizz again. This time, keep going until the mixture is nice and smooth then serve!
This made 3 portions for me and will be my lunch with some vegetable sticks this week!
You could also try my Red Pepper Hummus recipe. Perfect for get together's and parties and no one will guess it's a healthier version!
Enjoy!