Minced Beef Hotpot & Samuel Groves Cookware Review
There's something really comforting about an easy one-pot dinner. This Minced Beef Hotpot recipe is just that!
When Samuel Groves kindly asked me to review one of their pans I had to choose their casserole pan! The best things about Samuel Groves pans is the fact you can go from hob to oven without having to switch cookware. I was sent the 20cm Stainless Steel Casserole Pan & Lid from their Classic Range. I decided this Minced Beef Hotpot would be the perfect recipe to try the pan out and I wasn't wrong!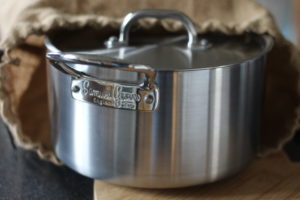 It comes packaged in a Samuel Groves named box and inside that was a natural hessian bag. The bag is great for storage and keeps the pan from being bashed and scratched in the cupboard. I love the weight of this pan. It's heavy enough that it feels like a good quality pan but not that heavy that I can't lift it! Even when full of food.
I'm really impressed with how quick the pan heated up. I don't have the greatest hobs in the world but these can be used on pretty much anything. One day I will have my nice gas hob!
Cleaning was just as easy too. I half expected to have to scrub the remnants of dinner off the side as it was quite baked on. No such issue though which again shows the quality of these pans. I love anything that makes my life a little bit easier.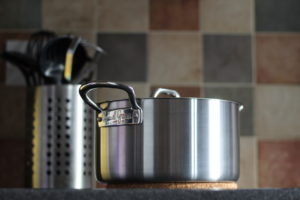 If you want to see the full range of Samuel Groves Cookware then head over to their website and take a little look www.samuelgroves.com
Now, let's have a little look at how I made my Minced Beef Hotpot..
This is a real winter warmer to me. It's like a Cottage Pie but I'm not the greatest fan of mashed potatoes so this is perfect in my eyes. The potatoes are crispy on top and together with the mince and veggies it's so filling.
Ingredients (serves a family of 4)
500g Minced Beef
2 Medium Carrots
1 Medium Onion
Handful Frozen Peas
800ml Boiling Water
1 Beef Stock Cube
2 Tsp Gravy Granules
2 Tsp Worcestershire Sauce
Sprinkle Dried Parsley
2 Medium Sized Potatoes
Method
Start by slicing your potatoes and carrots and dicing your onion. The carrots can be any thickness you like but try to be a bit more accurate with the potatoes. Cutting them thinner means they'll cook through easier so I go for this kind of thickness…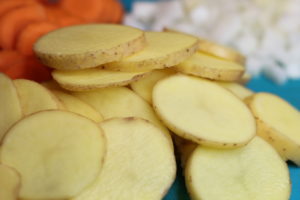 As you can see, I haven't bothered peeling my potatoes. I like the skin and I fell it gives a more rustic look but feel free to peel them before slicing if that's what you like.
Start warming your pan over a medium/high heat with a little oil in the bottom. (I use a spray olive oil personally). When the pan has warmed, add the onion and cook for a few minutes until it almost looks translucent.
Add the carrots and then break up the mince into the pan too. I use 5% fat mince to make it healthier. Give it all a stir and keep doing so until the meat has browned. At this point add the handful of frozen peas and stir them through. Pop your oven on to 170°
Add the water, stock cube, parsley and Worcester sauce and stir again. Bring to the boil and add the gravy granules to thicken it up. I use Bisto Best as it's Gluten Free and thickens slower. Reduce to a simmer and leave for 5 minutes.
Remove the pot from the heat and layer your sliced potatoes over the top. Spray them with a little oil and pop the dish in the oven.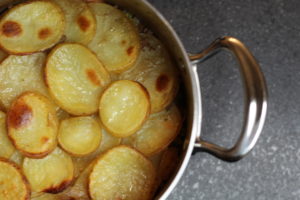 If you don't have a pan that can go straight from hob to oven then you'll need to transfer the meat and veg mix to an oven proof dish before layering on the potato.
Bake in the oven for around 40-50 minutes until the potatoes have browned and gone nice and crispy. And that's it! Just be careful when taking the pan out of the oven.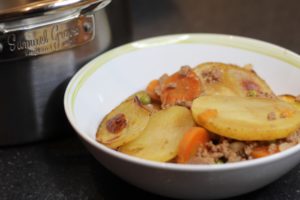 Let me know if you try any of my recipes and tag me on Instagram with a photo!