Cottage Pie is a proper British classic! You just can't beat comfort food at this time of the year. There's nothing better than snuggling up after a dinner full of carby, meaty, gravy covered goodness.
Do you know the difference between your Shepherd's and your Cottage though? So many people don't, I was quite surprised. For those of your who don't; It's down to your meat. Shepherds look after sheep so that's lamb mince…. Don't ask me why Cottage is beef though!
This dinner takes me back to being a child as it was one of my mum's favourite, easy meals. My recipe is slightly different to my mum's one but the basics are the same. This is another of those meals that everyone makes differently. A bit like my Slow Cooker Beef Casserole.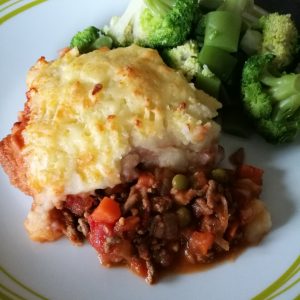 Ingredients
375g of 5% beef mince
1 tin of tomatoes
3rd of a carton of passata
200ml of beef stock
1 tbsp of tomato puree
1/4 of a bag of frozen mixed veg
1 onion
2 tsp of Very Lazy Garlic
2 bay leaves
1 tbsp of mixed herbs
60g of strong grated cheese
4 medium sized potatoes
2 tsp of cheese spread
Splash of milk
Method (Serves 4)
Peel, wash and cut the potatoes into large cubes then boil for around 20 minutes until soft, drain and set aside.
Meanwhile, dice the onion. Heat a high sided frying pan on a medium heat and spray with cooking spray oil.
Add the onion and garlic to the pan and fry till softened; around 5 minutes. Add the mince and continue to fry until the mince has browned then add the frozen veg.
Continue to fry everything for another few minutes until the veg has defrosted then add the tomatoes, passata, stock, tomato puree, bay leaves and mixed herbs. Stir well then let simmer for 15-20 minutes, stirring occasionally until the sauce has reduced down a bit.
While that's simmering, add a splash of milk and the cheese spread to the potatoes and mash until smooth. I still use this method even though I'm Lactose intolerant. I use my milk for it but the cheese spread doesn't seem to have too much of an effect as it's such a small amount.
Once the meaty sauce has reduced, remove the bay leaves then transfer the mince into a large, ovenproof dish. Put blobs of the mashed potato on top of the mince and spread it out so the top is covered.
Try and leave the top rough looking as it helps crisp the potato, run a fork across the top of that helps. Sprinkle the grated cheese on the top of the potato and pop in the oven on 180° for half and hour or until the cheese is golden.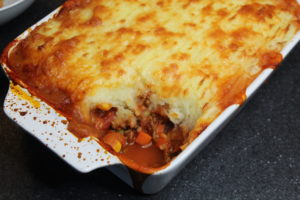 Serve with your favourite vegetables and enjoy!