The weather has turned, the days are shorter and it's definitely feeling like winter already! That can only mean one thing, it's soup season!!! There's nothing better than a bowl of soup on a crappy day and my favourite has always been a tomato based, vegetable one so here's my Chunky Vegetable Soup creation.
You can use any vegetables you fancy really so just see what's in the cupboard! Root vegetables tend to work best but it's all about trial and error.
I find the Chunky Vegetable Soup is really filling. It keeps me going for the whole afternoon and it's super healthy too!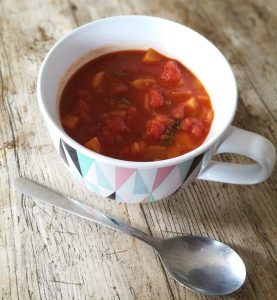 Ingredients
1 small swede
2 carrots
2 leeks
Handful of runner beans
1 tin of chopped tomatoes
1 tin of kidney beans
1 500g carton of passata
800ml of vegetable stock
1tbsp of tomato puree
1tsp of dried corriander
Pinch of salt and pepper
Method (Serves 4)
Peel and cube the swede and carrots, slice the leeks and chop your runner beans. Make sure it's all chunky but not too big that it won't soften so around 1cm cubes and about half a cm thick for the leeks.
Spray a large saucepan with low calorie cooking spray and warm on a medium heat.
Add the leeks and fry them for around 5 minutes or until softened then add the tomatoes and passata and stir.
Add the rest of your vegetables and the beans then top the pan up with the stock. Give it a stir and bring to the boil.
Add the tomato puree, corriander and seasoning then reduce the heat. Let it simmer for half hour to 45 minutes until the carrot and swede have softened, stirring occasionally.
Serve and enjoy or let cool and freeze it in batches to have when it's one of this miserable days and only soup will do!
You can find some other soup recipes here and here too.