Carrot And Coriander Soup With Crunchy Croutons
Soup weather is definitely upon us. It's chilly outside, even when it's sunny! All I want to do is wrap up on the sofa in a big jumper with a mug of something warm.
Soup is definitely the ideal food for this time of the year and you can find a couple of recipes for different ones here and here.
My croutons have been made with gluten free bread and the soup is naturally gluten free! If you are on a diet plan then this is a perfect recipe for you too!`
You will need a hand blender or food processor for this Carrot and Coriander Soup recipe.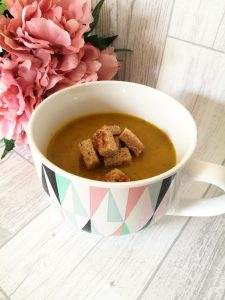 Ingredients for the Carrot and Coriander Soup
4 large carrots
2 medium potatoes
A medium onion
1.2 litres of vegetable stock
1 tsp of ground coriander
A handful of fresh coriander
Ingredients for the Crunchy Croutons
1 slice of bread from a 400g loaf
Half a tsp of mixed dried herbs
Butter cooking spray
Method
Start by chopping your veg. The smaller you chop, the quicker it cooks so it's ideal to have small cubes of carrot and potato.
Warm a large saucepan over a medium heat and spray with a little cooking spray. Fry your onion for a couple of minutes then add the carrot and potato.
Add the ground coriander and stir well, coating the vegetables. Next, add the vegetable stock and give it all a good stir again. Bring to the boil then reduce the heat to a simmer.
Leave for 25-30 minutes until the potato and carrot have softened. Add the fresh coriander then use a hand blender to make your soup smooth or transfer to a food processor in batches and blend.
The soup is now ready to serve so here's how to do your crunchy croutons!
Cut the crusts off your slice of bread then slice it into small 2cm squares. Heat a frying pan over a hot heat and spray with a butter cooking spray.
When the pan is hot, add your bread squares then spray them with some butter spray too. Sprinkle the dried herbs over the top and keep turning the squares. When browned and nice and crispy all over, serve a big bowl of soup and pop your croutons on top!
And yes, gluten free bread does work for these! They came out lovely and crispy, probably better than normal bread!