Winter is definitely here and for me that means it's soup weather! I love my chunky vegetable soup but I'm getting a little bored of it so today I decided to try something new and this is what I came up with. It tastes amazing and it's perfect for warming you up from the inside.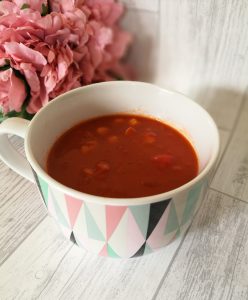 Ingredients
4 rashers of smoked bacon, fat removed and cut into small chunks
2 tins chopped tomatoes
1 tin of chickpeas
1 litre vegetable stock
1 medium onion, diced
1 tbsp of smoked paprika
1/2 tsp of chilli flakes
1 tsp of garlic powder
2 tsp of worcestershire sauce
2 tbsp of tomato puree
Method (Serves 4)
Spray a large saucepan with Frylight and put over a medium heat. Add the onion and bacon and fry until the bacon has coloured then add a bit of paprika and continue to fry for another minute. Add the tomatoes, chickpeas and the rest of the seasonings and  the worcestershire sauce and stir well. Add the stock and tomato puree then stir again. Bring to the boil then reduce the heat and leave to simmer for around half an hour.
Serve and enjoy!