Chinese Noodle Salad is one of my favourite lunches as it doesn't take much prep and tastes delicious. It's great with loads of lettuce and will keep you full all afternoon.
It can easily be taken out and about in a lunchbox so makes the perfect midweek lunch when you're off to work.
I make mine gluten free by using rice noodles and Tamari these days. It works just as well as it did with egg noodles pre-GF. Of course, you can make it with the normie ingredients if you don't need it to be free from.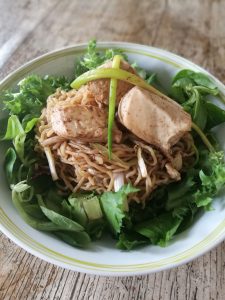 Ingredients (serves 1)
Dried noodle nest (rice noodles if you need GF)
Cooked chicken slices
Couple of spring onions
Shredded lettuce
4 tsp of soy sauce/Tamari
1 tsp of sweetener
2 tsp of Chinese 5 spice
Method
Cook the noodles as per the packet instructions and set aside to cool. I usualy place mine in cold water to stop them cooking any further as rice noodles can get soft easily. Slice the spring onions lengthways to create thin strips and mix in with the cooled noodles.
Now to make up the sauce: in a small pot thoroughly mix together the soy sauce, Chinese 5 spice and sweetener.
Put your noodles, spring onion and cooked chicken in a lunch box and pour over the sauce and give it a good mix so it coats everything. Leave it to soak for at least a couple of hours or overnight, the noodles do go sticky but they taste lovely.
Serve up on a bed of shredded lettuce or add some lettuce to the lunchbox and just take it with you. And there you go, Chinese Noodle Salad ready to go.
If you are making the gluten free version, I would recommend using an extra tsp of sweetener. Tamari is a bit salty so you need an extra touch of sweetness.
If you love a bit of Chinese then why not try my Satay Chicken recipe too.
Enjoy!