Chicken and Chorizo Paella
Chicken and chorizo paella is such a tasty dish and because it's all done in one pan it means less washing up!
I feel like this is the perfect dish for any time of the year. It's great in the summer as it just reminds me of Spain but it's also warming in the winter.
The cold leftovers also taste amazing! Not that there's ever much left over in our house!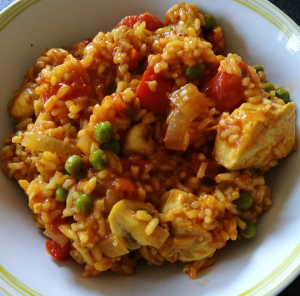 Ingredients (Serves 4)
250g Paella rice
750ml of chicken stock
1 tin of chopped tomatoes
50g of diced chorizo
350g of diced chicken
2 tsp of Lazy Garlic
1 medium onion
1 large red pepper
10 button mushrooms
A handful of frozen peas
1 tbsp of smoked paprika
3 tsp of cumin
1 tsp of turmeric
2 bay leaves
2 tbsp of tomato puree
Method
Start by dicing your onion and pepper and quartering the mushrooms.
Put a large, deep sided pan on a medium heat and spray with spray oil. Fry off the onions and garlic until softened then add the chicken and after a few minutes add the chorizo.
Add the pepper and after a couple of minutes put the turmeric, cumin and paprika in and mix well.
Immediately add the rice and make sure it gets coated in the spices. Add the tomatoes, half the stock, the bay leaves and the tomato puree and stir well.
Bring to the boil then reduce the heat and simmer. Add the mushrooms and the peas and slowly add more stock as the sauce thickens.
You have to make sure the rice isn't sticking to the bottom of the pan by giving it a quick stir every so often, just keep adding a bit of stock at a time and it should be ok. The rice should be cooked within 15-20 minutes but the best was to test it is of course by trying it!
Once the rice is soft, remove the bay leaves, serve and enjoy your chicken and chorizo paella!