Melt In The Middle Baked Oats
Baked oats have got to be one of my favourite breakfasts. I ate them a bit too often at one point and got a bit sick of them but after a short break, I'm now loving them again. They're not a breakfast you can make if you're in a rush as they take a while to cook but you can always make them the night before.
They're so versatile, you can experiment with different flavour combinations by simply changing the flavour of the yoghurt or other fillings. I have quite a few different variations on my blog these days. A couple of my other favourites are Caramel Apple and Lemon Drizzle. Here's my recipe for toffee and chocolate melt in the middle baked oats though.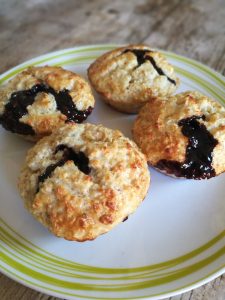 Ingredients (Serves 1)
40g of oats
3/4 of a toffee Muller Light
2 tbsp of sweetener
1 whisked egg
2 tsp of Sweet Freedom Choc Pot
Method
Mix the oats, yoghurt, sweetener and egg together. Spoon half a teaspoon of the mixture into the bottom of 4 silicone cases then put half a teaspoon of Choc Pot into each one. Spoon the rest of the oat mix into the cases covering the Choc Pot. Bake in the oven for around half hour at 180° until the tops have browned.
Leave them to cool for around 5 minutes before digging in as they are like lava but trust me, they're worth the wait.
I can't ever eat these alone. Most of the time, the toddler is by my side like a baby bird as soon as he realises what I've got! He absolutely loves them!