Overnight Cake In A Jar – Toffee Apple
Overnight Cake In a Jar is a different take on Overnight Oats. If you don't know what overnight oats are then, you have clearly never dieted!
The idea is to layer oats, yoghurt and fruit (fresh or frozen) and leave it in the fridge overnight. I have never layered mine though as the oats are usually still chewy. I'm a mix and top kinda gal.
Overnight Cake In A Jar is the same concept but with a slight twist. It doesn't use oats and you can layer it without worrying about chewy oats.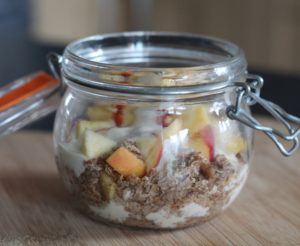 As you may be aware, I am gluten free so I have to be careful with cereals. Gluten Free cereals can be a little….. Solid. The one I use for this has a tendency to absorb a litre of milk and still be a bit tough. That's why I knew Overnight Cake In A Jar would work.
I'm glad it did as this is now one of my absolute favourite breakfasts.
This variation is Toffee Apple but you can play around with different flavour combinations easily.
Ingredients
2 Nutribex Biscuits (Weetabix if you're not GF)
1 Pot Low Fat Toffee Yogurt
1 Apple, Diced
A jar or pot with a lid.
Method
It's quite a simple method really. Start by crumbling half a biscuit in the bottom of the jar.
Layer some yogurt on top and then add some apple.
Add another layer of biscuit, then yoghurt then apple. Keep going until you've run out of ingredients.
Pop the lid on the jar and then leave it in the fridge overnight.
It's as simple as that!
In the morning the biscuit will have absorbed the moisture of the yoghurt. It will have a cake-like consistency and be absolutely amazing!
It's really filling and contains one of your 5 a day. It's an easy way to get some fruit into your diet without really realising.