Skincare In Your Early 30's – My Favourite Products
Skincare in your early 30's is definitely not the same as it was in your 20's. Has anyone else noticed this?
It's like a strange period in time where the products you used in your 20's are now not powerful enough. A lot of the anti-wrinkle creams seem to be aimed at 40+ skin though and are too heavy for 30's skin.
We're kind of forgotten about and left to our own devices to find something that works.
I found that my skin changed almost overnight when I turned 30. Well maybe not that quick but I'm only 32 now! I went from having quite greasy, spot prone skin to having clearer but slightly dry skin. And of course, I started noticing wrinkles appearing more.
Skincare in your early 30's
I've always been quite good with my skincare routine but I've stepped up my game these days. Finding products for 30's skin can be a bit of trial and error. What works for one person won't necessarily work for someone else.
I tend to alternate between different products. I will use one thing one day and then something else the next. It does mean I have a LOT of products on my dressing table. But it also means I know I will always have something I do like when trying out something new. Genius, I know!
But here's a rundown of my favourite products for skincare in your early 30's:
Olay Hydration + Purifying Facewash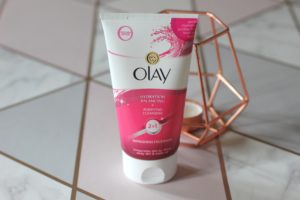 I love this daily wash. It's really kind to my skin and doesn't irritate it whatsoever. After using it my face feels clean but not tight and dried out.
It's the first face wash I think I've ever found that works for me. I've been using it for a few years now and I've not attempted to change it at all.
Nivea Q10 Pore Minimising Day Cream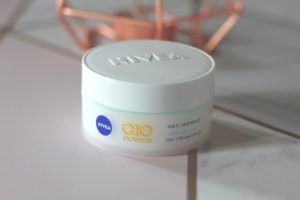 This is one product from my 20's that hasn't changed. I have been using it since I was about 24 and I love it. I've tried other creams from Olay to Aldi's own Q10 dupe and I can't find anything that I like.
Nothing seems to absorb into my skin as well whilst offering the anti-wrinkle benefits. Funnily enough though, I don't get along with the night cream. I find it far too thick and it tends to clog my pores and cause spots.
Aldi Lacura Q10 Renew Night Cream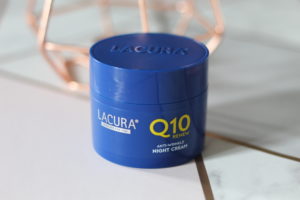 This is Aldi's dupe for the Nivea Q10 night cream. I find this one far nicer (and cheaper). The formula is still quite heavy but you'd expect that from a night cream. It's lighter than Nivea though and does seem to absorb much better. The biggest bonus is that it doesn't clog my pores and give me breakouts.
Avant Deluxe Hyaluronic Acid Vivifying Face & Eye Night Cream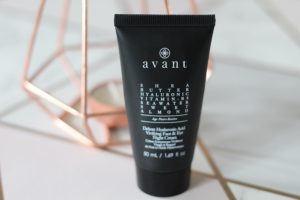 I received this in a Glossybox a few months ago. I would love to replace it as I am running out. The formula is beautiful and it's everything I want from a night cream…. Unfortunately the £100 price tag is far too much for me!
I'll be sticking to Aldi then……. And speaking of Aldi….
Lacura Healthy Glow Exfoliating Toner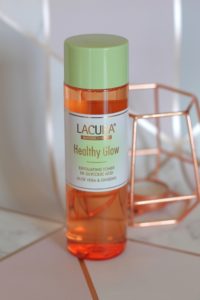 I was going to buy the Pixi Glow Tonic but when I saw this dupe in Aldi for less than a quarter of the price I had to try it.
This is quite a new buy for me. I've been using it daily for about 3 weeks now and I've really noticed a difference! I have far less little white heads and I've had no huge 2nd heads at all. (Those spots that appear under the skin and really hurt and feel huge!)
I will definitely be picking up another bottle when I find one. That's the only issue with Aldi at times, things disappear too easily.
Nip+Fab Dragons Blood Serum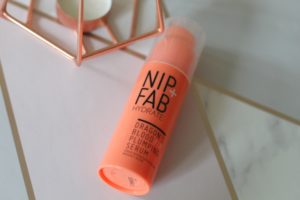 This is a more recent purchase too but so far I absolutely love it!
I've been using it for a couple of weeks now and I have definitely noticed my skin feels softer and looks a lot more even toned.
I bought it because it was on sale at £10 which in comparison to my other favourite serum is an absolute bargain!
Clinique Smart Custom Repair Serum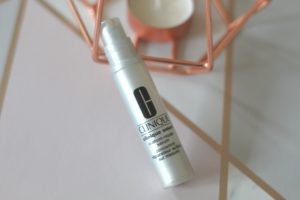 I only ever buy sample bottles of this. It is amazing stuff and I am a little obsessed. I have actually worked out that buying the trial sized bottles does work out cheaper.
The trial size is 10ml and full size 30ml. But I but the 10ml for around £8 whereas the full size is over 40 quid!
The trial size usually lasts about a month with constant use as a little does go a long way. It's totally worth the money in my eyes. Though the Dragons Blood may get repurchased over this and I'm going to give the Aldi Laqura Serum a try.
Cougar Hyaluronic Acid Facial Oil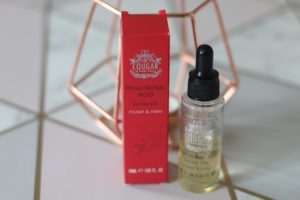 This is the only facial oil I currently have. I don't use them very often and it's mainly at night time just for a little extra moisture.
I find them too heavy and greasy and I certainly can't wear them under makeup.
Cougar oil is a little lighter than usual though. I can manage to use small dabs on the areas I need it and my makeup doesn't slide off straight away.
It contains hydrolaronic acid to plump the skin and smooth fine lines. I do notice a little difference when I use it but it's just not something I can use daily.
There are so many more products I use through the week. Scrubs, masks, eye creams, they all come out at some point of another. Having a good Skincare routine has made such a difference for me though.
I actually left the house with no makeup on during the process of writing this post. That's a huge deal for me as I'm usually trying to hide black bags or even out my skin tone. I do think wearing less makeup every day has also helped though! See my No Makeup Makeup Look post for details on what I use on a daily basis.
What Skincare products have you used? Would any of them make your list for Skincare in your early 30's?