Chicken Mayonnaise Pasta Salad
Summer is nearly upon us again… Well it should be but the weather has still been a bit naff! I'm sure this time last year I had the start of a golden tan.
But anyway, summer means salads for me. There's nothing better than nice crisp vegetables when it's warm out. My only issue is, salad alone just doesn't fill me up. Which is why I love this Chicken Mayonnaise Pasta Salad.
It's a good mix of stodgy carbs and tasty veggies. I tend to have it with some crispy lettuce leaves too.
Mine is made with gluten free pasta but you can make it with normal stuff. Due to the mayonnaise this isn't dairy free but there must be a replacement?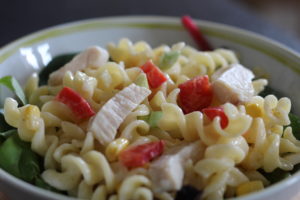 Ingredients (serves 1)
Ready Cooked Chicken
70g Pasta
2 Tbsp Lighter than light mayo
1 Tbsp Tinned Sweetcorn
Half A Red Pepper
1 Spring Onion
Pinch Of Black Pepper
Method
Cook your pasta according to the instructions. Once cooked, rinse thoroughly with cold water, drain, and set aside.
Finely chop your pepper and spring onion then add it to the cold pasta. Also add your sweetcorn and sprinkle a pinch of black pepper over it all.
Add your cooked chicken then stir in 2 tablespoons of lighter than light mayonnaise. (Aldi's is my favourite.)
Make sure all the pasta is coated with mayonnaise.
Serve with some lettuce and enjoy!
You can always make this in bigger batches if need be. It's great as a side dish at BBQ's. You can of course pack it up in a lunchbox and take it to work too. It's such a simple recipe but it really is great.
If Chicken Mayonnaise Pasta Salad doesn't quite take your fancy, why not check out 5 Healthy Lunches You Need To Have This Week