Fakeaway Salt And Pepper Chicken
This Fakeaway Salt and Pepper Chicken is one of my absolute favourites.
Being Gluten Free is quite easy these days. The choice of bread and cakes in shops is unbelievable and everything tastes nice. Restaurants offer whole Free From Menus now. Eating out is far easier now than it was a few years ago. Every body seems to be realising that people with allergies and intolerances want to eat good food too!
One problem I do still come across is takeaways. I can manage to get a chicken Kebab minus the pitta from my local Kebab shop but that's about it. I haven't risked an Indian and Chinese is out of the question in my hometown.
I know there are Chinese restaurants that off Gluten Free options but I've only seen them in London. I think it would be a bit cold by the time it got to me and I think I'm probably about 50 miles out of their delivery zone.
So with that being said, making my own Chinese dishes is a lot easier! I tend to make my Satay Chicken dish most often but this one has been in development for some time.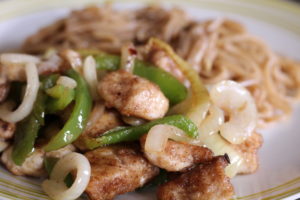 I used to do a Slimming friendly version but quite frankly, it never cut the mustard. I think some Fakeaway's still need to have an element of naughtiness and this Salt and Pepper Chicken is definitely one!
Ingredients (Serves 2)
350g of Diced Chicken Breast
1 Onion
1 Pepper (Colour is your choice)
2 Tbsp cornflour
1 1/2 Tsp salt
1 tsp ground black pepper
1 tsp Chinese 5 Spice
Dried Chilli Flakes to taste
2 Tbsp Olive Oil
Method
Mix together the Cornflour, Salt, Pepper and Chinese 5 Spice in a good sized mixing bowl.
Heat up a frying pan on a medium/high heat with 2 tablespoons of oil in it. You have to shallow fry this for it to work!
Just as the oil is starting to bubble, add the diced chicken to the cornflour mix and stir. Make sure each chicken piece is coated well and immediately add them to the hot pan to fry. You can't leave the chicken in the flour too long otherwise it will just absorb it.
Turn the chicken pieces frequently until each side has gone a golden brown colour. This should take around 15 minutes and add more oil if it's required.
The chicken should be a nice dark, golden colour and slightly crispy. Take all the chicken out of the pan and let it rest on some kitchen towel to absorb any excess oil.
Put the pan back on the heat and spray with more oil if needed. Add thinly sliced onion and pepper pieces to the hot pan and stir fry for 5 minutes. Add the dried chilli flakes and add the chicken back to the pan too. Cook it all together and then serve.
I had my Fakeaway Salt and Pepper Chicken with noodles recently but I also enjoy it with Egg Fried Rice. You could always make an entire banquet though!
I'm determined to get a few more Chinese style recipes on here so keep your eyes peeled!