Spicy Tomato, Pepper & Chorizo Soup
This week I have been absolutely full of cold so soup was called for! I had some leftover spicy chorizo in the fridge from making my Paella so figured I could use it in a soup.
I wanted something that could clear my nose. I don't know about you but when I have a blocked nose, I can't taste a thing. This means I always fancy things that are really flavorful but not always that healthy.
This soup is both though! The chorizo does bring it in at slightly higher calories but let's face it, it's still going to be less than a shop bought tin! And it's far more cost effective making it yourself.
I always freeze a portion of soup for poorly days and I think this is going to be my favourite for that.
You will need a hand blender or food processor for this recipe.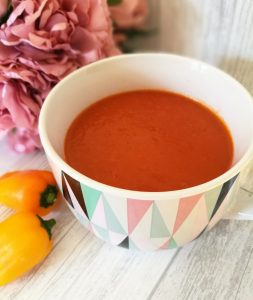 Ingredients
2 tins of chopped tomatoes
1 onion
2 large, sweet peppers
60g of spicy chorizo
1 litre vegetable stock
2 tbsp of tomato puree
1 tsp of chilli powder
1 tsp of smoked paprika
A sprinkle of dried chilli flakes
Method (Serves 4)
Start by halving and de-seeding your peppers. Place them skin up on a baking tray, spray with cooking oil and bake in the oven for 15-20 minutes on 180°.
Once the edges have started to char, they are ready! Remove from the oven and once cooled, peel off the skin.
Roughly chop your onion, pepper and the chorizo.
Heat a large saucepan sprayed with low calorie cooking spray over a medium/high heat. Add the onion and soften them for about 5 minutes then add the pepper.
Give it another couple of minutes then add your chorizo. Let some of the oils seep out and start to colour the onion then add the tinned tomatoes and stock.
Give it all a good stir then add your chilli powder, paprika, dried chilli flakes and tomato puree. Stir again then bring to the boil.
Once boiling, reduce the heat to a simmer and let it do its thing for 30 minutes. Give it a stir occasionally if you feel the need (I always do!).
When your time is up and the soup has thickened, remove from the heat and let it cool slightly. Now it's time to whizz it up! Either take a hand blender to it in the saucepan or transfer the mix to a blender/food processor in portions.
Whizz until smooth then serve with some crusty (gluten free) bread!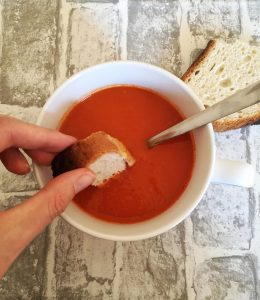 You just can't beat soup and you can find another couple of my recipes here and here. Enjoy!