I do love soup! There's just something so warming about it. When the weather is miserable and cold soup is just the perfect meal.
This one is perfect for those grey, rainy days and is really filling thanks to the potato. It's also a good way of using up some sad looking potatoes lurking in the cupboard.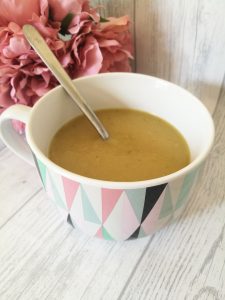 Ingredients
3 medium sized potatoes
2 large leeks
150g of smoked bacon, fat removed
1.4 litres of vegetable stock
Tsp of dried parsley
1/2 tsp of white pepper
Method (Serves 4)
Start by peeling and cubing the potatoes, slicing the leeks and chopping up the bacon.
Spray a large saucepan with a bit of Frylight and heat over a medium heat. Add the bacon and leeks and fry for 5-10 minutes until softened and the bacon has browned.
Add the potatoes and cook for another 5 minutes, stirring everything almost constantly. Next, add the stock, parsley and pepper then bring to the boil.
Cover and reduce the heat to a simmer for 20 minutes. Once the potato has softened, remove the pan from the heat and whizz up the soup with a hand blender or in a food processor until smooth. I'd definitely recommend letting it cool slightly.
Serve and enjoy!