I love a good pasta dish! I've started getting a little bored of eating the same ones though so it was time to come up with a new recipe!
Amatriciana is so simple. It's just a spicy tomato and bacon sauce but it tastes amazing!
It is diet plan friendly and can be made gluten free by using the right pasta and a gluten free worcester sauce.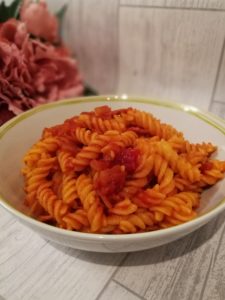 Ingredients (serves 4)
1 onion
3 rashers of smoked bacon
1 tin of chopped tomatoes
Half a tsp of garlic
2 tbsp of tomato puree
2 tsp of mild chilli powder
Dried chilli flakes to taste
200ml of water
1tsp sweetener
1 tbsp of worcester sauce
Pinch of dried parsley
Enough pasta to feed an army! (Because I can never get the amount right!)
Method
Dice your onion and chop your bacon rashers up into roughly 1cm squares, removing any fat.
Warm a large pan sprayed with cooking spray over a medium high heat. Once warmed, add your onion and garlic and fry for about 5 minutes.
Once the onion has softened add the bacon and cook till browned. Add your tin of tomatoes and stir.
Add roughly 150ml of cold water to the pan and stir again. Next, add the tomato puree, chilli powder and flakes, sweetener, worcester sauce and parsley. Give it all a good stir, bring to the boil and reduce the heat to a simmer.
At this point, get your pasta cooking.
The sauce will thicken up so add the extra water if/when required while the pasta is cooking. I said 200ml but that is a bit of a rough guess as sometimes I use more, sometimes less.
Once the pasta is ready, drain it and stir the pasta into the pan with the sauce in it.
Serve immediately and enjoy!
You can find a couple of my other pasta recipes by clicking HERE and HERE