We have a thing for Mexican in our house. Well, apart from the toddler but he's in the "I don't like it!" stage.
We don't tend to have roasts on a Sunday, we either have Mexican or a curry. It's kind of a picky dinner night where things get put in the table and you help yourself.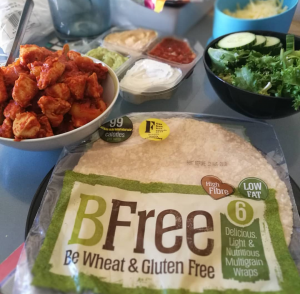 Standard wraps in the UK are made from wheat flour which is annoying for me. Proper Mexican tortilla's are made from corn which makes them naturally Gluten Free! Can you tell it annoys me slightly? Hehe!
So anyway, because of this I couldn't be bothered to buy GF wraps. I decided I would join the toddler and have pasta with him. I really wish I'd had it like that before! It was beautiful.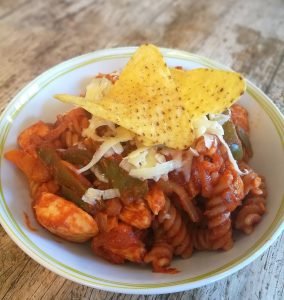 So yes, this recipe can be used in wraps as proper Fajitas or as a pasta dish.
Ingredients (makes enough for 4 people)
600g of diced chicken breast
2 peppers
1 large onion
Half a carton of passata
100ml of water
2 tsp of chilli powder
1 tsp of paprika
2 tsp of cumin
1 tsp of dried oregano
2 tbsp of tomato puree
Method For Fajita Chicken
Slice your onion and pepper into strips. Lightly spray a large frying pan with oil spray and warm it over a medium heat. Once warmed, add the onions and peppers to the pan and stir fry for 5 minutes.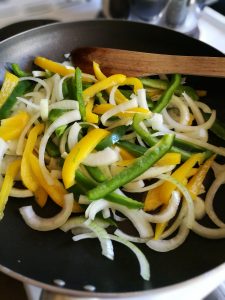 Add the chicken breast pieces and cook until browned all over. I make sure my chicken pieces are quite small. This helps them cook a bit quicker and you can fit them in wraps easier too.
When the chicken is cooked sprinkle over the chilli powder, cumin, paprika and oregano and stir thouroughly. Once everything is coated in the seasonings, add the passata and the water. Give it a good stir then add the tomato puree and stir again.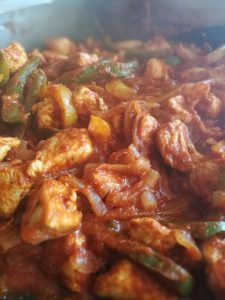 Bring to the boil then reduce to a simmer. Let it simmer for around 20 minutes until the sauce has thickened. At this point you can serve with pasta. If you want to use it for wraps then continue to cook for another 5 minutes so the sauce is thicker. This stops it making your Fajitas soggy.
Serve with some homemade salsa, cheese and whatever else you fancy!