This is something I used to cook way before I started "dieting" and now it seems every time I have it on the menu we end up with a takeaway! Tonight, I finally managed to cook it again and I forgot how good it is for a simple, 1 pan dish. It's a great way of using up wrinkly veg too as you can chuck whatever you fancy in it. You can also make it vegetarian, which I have done many times before, by simply removing the chicken. Also, you can make it as spicy or mild as you like, as with pretty much all my recipes, this is child friendly!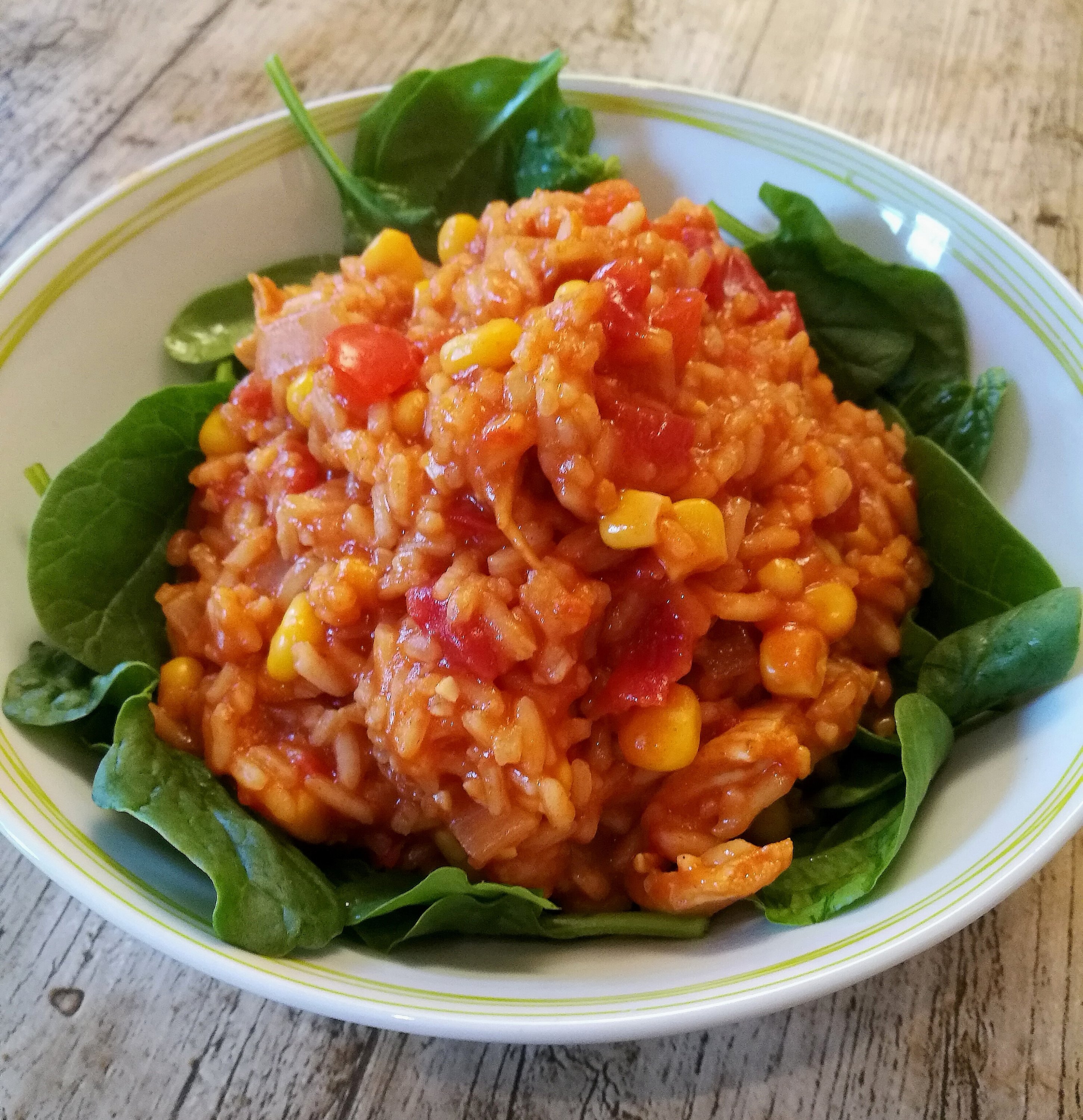 Ingredients (Serves 4)
2 chicken breasts, diced
1 tin of chopped tomatoes
1 tin of sweetcorn
1 onion
1 pepper
200g of long grain rice
2 tbsp of tomato puree
2 tsp of Very Lazy Garlic
2 tsp of cumin
2 tsp of mild chilli powder
1 tsp of smoked paprika
2 bay leaves
Water
Method
Dice your onion and pepper. Warm a large, GOOD, non-stick frying pan and spray with Frylight. Add the onion and garlic and fry for about 5 minutes to soften the onion then add the chicken and pepper. Fry for another couple of minutes until the chicken has browned then add the sweetcorn, tomatoes (but keep the can for a second), rice, cumin, paprika and chilli and stir well, making sure the rice is coated. Now, I told you to keep the can as you now need to fill it with water and add that to the rice. You will need 2 cans of water to start then you will probably need to add another can's worth during cooking. Add the tomato puree and bay leaves, stir, bring to the boil then reduce to a simmer and cover the pan. I don't have a lid for my frying pan so I use a bit of tin foil but just make sure you're careful when removing it due to the steam.
You will need to give the rice a stir every few minutes otherwise it sticks (which is why I said it needs to be a good pan). Cook until the rice has absorbed the water and if the rice hasn't gone soft then add more and continue to cook. It usually takes around 25 minutes to cook through and the best way to see if it's cooked is to try some!
Once it's cooked, serve and enjoy!
If you enjoyed this recipe then leave a comment. If you want to save it for later then Pin the image below.