Greggs Style Sausage & Bean Bake
Greggs style Sausage & Bean Bake is a healthier version of a much loved classic!
The dieting world has gone mad for "pasty's" lately and they are bloody lovely so I can understand why!! The humble wrap has become a pastry replacement for slimmers across the country and while in town this morning, smelling the sausage rolls as I was walking past Greggs I wondered what other goodies I could try…. Of course! There's no reason I can't make a Greggs Style Sausage & Bean Bake!
I have now gone gluten free so I now have even more reason to make things like this as I can't eat Gregg's. I also find that gluten free pastry is a little hit and miss at times. It's just not quite the same but wraps do work pretty well. Just be aware, they don't fold quite as well as their normie counterparts.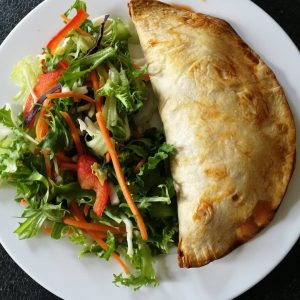 Ingredients (makes 1)
1 tortilla wrap
2 tbsp of beans
15g of cheese
1 low fat sausage
Egg
Method
First up, cook your sausage then set aside. When cooled slightly cut your sausage into slices. I had 6 slices but left the ends out as I was scared of them tearing the wrap, so eat them.
Spoon your beans onto one half of the wrap, trying to get as little juice as you can then pop the slices of sausage on top of the beans. Sprinkle with cheese. It should look like this: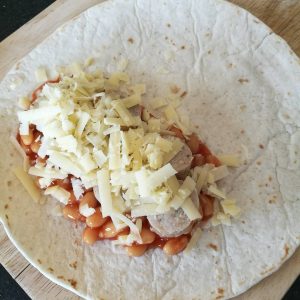 Egg-wash the wrap around the edges and fold it over. Crimp the edges with a fork then egg-wash the top of your pasty. This wasn't the easiest thing to do with a gluten free wrap but the curl when cooking so it still works well!
Place it on a baking tray sprayed with cooking spray then pop it in the oven. 180° for about 15 minutes or until the top has gone golden then serve with some salad or just eat it on its own. Just be careful as the middle will be like lava!
Enjoy! If you've given this recipe a go then let me know how it turned out in the comments. Did it hold together ok? If you want to save this for later then Pin the picture.