Roasted Herby Chicken With Sundried Tomato Pasta
We love a good pasta dish in our house. Mainly because it's one of the only things the toddler will eat.
I'm always trying out different flavour combinations but I don't always remember to write them down. This Roasted Herby Chicken With Sundried Tomato Pasta I did!
This recipe came about as I was trying to use up some Sundried Tomatoes that I had in my fridge. A lot of my recipes come about from me trying to use up leftovers. It's not crazy if it works!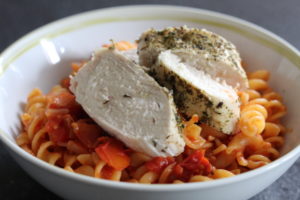 I just love being experimental in the kitchen which is a far throw from what I used to be like! My idea of a pasta dish would have been a jar of Dolmio!
If you want to try one of my other pasta recipes then have a look at these: Pasta Amatriciana Campfire Pasta
Ingredients (Serves 4)
For The Sauce
1 onion
2 tsp lazy garlic
3 sun-dried tomatoes
A 400g tin of chopped tomatoes
1 tsp sweetener
250g passata
2 tbsp puree
1 tsp dried oregano
For The Chicken
2 chicken breasts
Dried mixed herbs
To Serve
Enough pasta to feed 4 people. Or a small army in my case! I applaud people who can actually measure out the right amount of pasta.
Method
Start by rolling your chicken breasts in dried herbs. They don't have to be completely covered but just a good coating. Pop them in a roasting tin and in a preheated oven on 180°C for around 30 minutes or until cooked through.
While your chicken is cooking, dice up the onion and sundried tomatoes.
Warm a large, high sided frying pan over a medium heat on the hob. Spray said pan with cooking spray.
Once warmed, add the onions and garlic and cook for a few minutes until the onion has softened.
Add the sundried tomatoes and cook for another couple of minutes.
Next, add the tin of chopped tomatoes, the passata and a teaspoon of sweetener and give it all a good stir. Then add the tomato puree and dried oregano and stir again.
Bring the pan to the boil then reduce the heat and let it simmer for around 20 minutes until the sauce has thickened.
While the sauce and chicken are doing their things, get your pasta on. Cook as per the instructions.
Once the chicken has cooked through, get it out of the oven and let it rest for a couple of minutes.
Once your pasta has cooked and the sauce has thickened, drain the pasta and chuck it in with the sauce. Give it all a good stir and make sure the pasta is well coated.
Dish up you saucy pasta then slice your chicken breasts and place a few slices on top of the pasta.
Viola! Roasted Herby Chicken With Sundried Tomato Pasta is served!
If you try this recipe out then let me know what you think in the comments below.
Enjoy!