London Adventures – A Night At The Piano Works
Recently Mr and I celebrated our 5th anniversary. We've only ever been away together once before due to the children. Because of this, we had decided that 5 years is a pretty big milestone and we needed to celebrate it.
A night away was needed but staying closer to home would be easier. London it was!
Stratford is only an hour and a half's drive from where we live. We worked out it was cheaper to park at Westfield overnight than getting a train up. That also meant we could just hop on the tube and head into the city without having to drag our overnight bags everywhere.
We got up to so much that I can't put it all in one post. So I have decided to do a mini series so I can cover the main things we done and really go into it. Plus I have a feeling we will be back in London a bit more often. I for one already have another 2 day trips planned.
A reason we chose London was because we knew of a good night out. One of Mr's friends from school works as a piano player and singer at The Piano Works. We've never had an opportunity to see him do his thing so this was a perfect chance!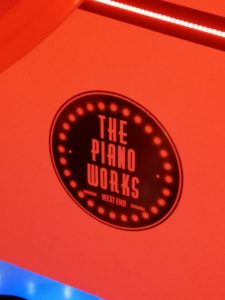 There's two bars in London. One in Farringdon and the other in the West End. Now, we booked a hotel in Farringdon. Mainly because it was the cheapest hotel actually in London, but also because it was down the road from The Piano Works. Typically, he wasn't working in the Farringdon branch that night!
It didn't matter though. We planned a little trip down to the west end instead. It worked perfectly with the other activity we had planned and we weren't many tube stops away.
The West End Piano Works is a 2 minute walk from Trafalgar Square. It looks quite unassuming from the outside; just their signage and a couple of door staff. You walk down a darkly painted corridor but then open a set of double doors to the brightest, most well lit red walls and a staircase leading down into a basement. All you can hear is music playing. Though it's not until you reach the bottom of the stairs do you see it's a complete band!
There were 2 beautiful pianos to each side of the stage, a bassist, guitarist, drummer and saxophonist.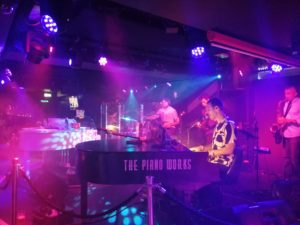 The whole idea of The Piano Works is like a live jukebox. There are slips of paper and pens dotted around on the bar and tables. You write down a song you want them to play and take it to one of the piano players and they have a tip "jar". (I write that in inverted commas as it's wasn't so much a jar, more of a fishbowl.) They then sing your song of choice.
It can literally be anything you fancy. These guys (and girls) are so amazingly talented it's unbelievable! They easily switch from doing one genre to another and no matter what there was always a crowd on the dance floor.
I was amazed by the talent on the stage that night, and I'm not just saying that because we know one of them.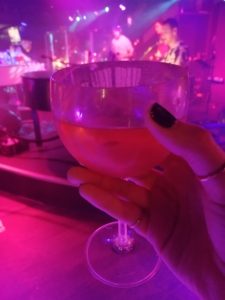 The only issue I had was the card machine was so sticky it wouldn't accept my pin. I apparently got it wrong twice before giving up but that'll teach me for buying a whole bottle of wine to drink by myself. It ended up being OK though, Mr picked that one up instead (hehehe).
We had a great night. We drank, we sang along and we got to see a friend doing what he does best. I'd highly recommend The Piano Works if you fancy something a little different.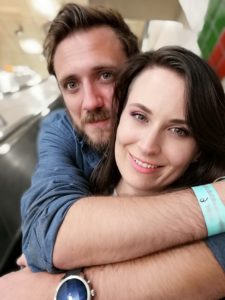 It was the perfect way of spending an evening to celebrate 5 years. Check out their website for more information!
Is there anywhere in London you love that's a little different to your standard night out? Let me know in the comments below.