Lush Hair Care Bars – Naturally Gorgeous Hair
I bought a couple of Lush hair care bars a few months back to give them a try. You can't beat a good hair care product so I figured I may as well review them.
I really struggle with shampoos and how much they irritate my scalp. I found an amazing shampoo and conditioner a while back when I got sent them to review. Click Here to read that review.
For the first time ever I got rid of the itchy lumps that had plagued me for years! My hair felt amazing and healthy and life was good. Then my local Tesco stopped stocking them and I've not found them since.
I tried a couple of other more natural hair care products but the lumps returned. Which then brings the flaky scalp and greasyness.
Randomly, I was in Lush buying bath bombs (as you do) and I looked at their shampoo and conditioner bars. They're made from natural ingredients and the lack of plastic was appealing too. Though I do wish I'd thought more about how I would store them at the time.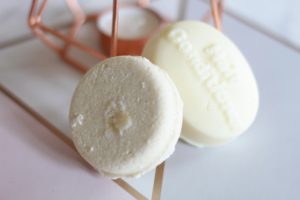 I picked up the "Honey I Washed My Hair" shampoo bar and "Big" solid conditioner. Now, I was stepping outside of my comfort zone with the prices here. I mean, I'm willing to spend a little more for a good brand but I was scared. These are bars, not big bottles of liquid. I had no idea if these would work and if they'd last that long. £8 each seems like quite a lot for such tiny things.
Lush Hair Care Bars – Usage
I can't really say these are hard to use, because they're not. It's like using a normal shampoo. Dampen the block, rub it in your hands and apply the bubbles to wet hair, simples. A little does go a long way and I have gone overboard on a couple of occasions. Ending up with a cartoon style bubble head.
The conditioner bars are a little different. You use them by stroking the whole bar down the length of your hair. Easier said then done when it's as slippery as an eel and your hair falls out in handfuls when wet. You do get there eventually though.
Lush Hair Care Bars – Storage
As I said above… I wish I'd thought about this when I bought them. I have just noticed online, you can buy little tins for them. Get one! I have a soap dish over my bath which is where I kept mine. But I've had to ask my family to remove said dish before a bath or shower as the shampoo melts rather easily. It makes a right mess!
The conditioner doesn't seem to melt away as easily. It also doesn't leave behind as much residue as the shampoo. The little tins just make sense though. They are then a million times easier to store!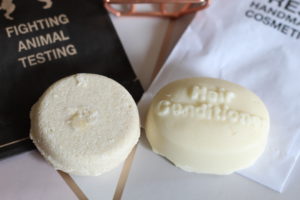 Lush Hair Care Bars – Results
The shampoo bar is an absolute godsend. I haven't had the horrible, itchy, flaky scalp in ages. I've genuinely forgotten what it feels like now I'm normal! The natural ingredients clearly help me a lot and I feel it's totally worth the money. The bar has lasted a good 4/5 months and I'm probably going to get another few weeks out of the one I have. I have purchased another one ready (along with a shampoo tin this time!)
It leaves my hair squeaky clean but still soft and I've noticed I'm losing less hairs in the shower now.
Unfortunately the conditioner just doesn't live up to the same standard.
It smells beautiful but it just leaves my hair looking flat and dry. There's just not enough conditioning power for my long, dry ended hair. I think it would work better for short hair.
I have found another great use for it though… It works brilliantly as a shaving cream! Quick rub down the legs and the razor glides up them! Not worth that kind of money for that use though.
You can find these products online at https://uk.lush.com/
Do you use any Lush products on the regular? What else should I be giving a go?