Naturally Beautiful Haircare
When I think about what shampoos and conditioners contain I just imagine a lot of chemical sounding ingredients that I can't pronounce.
I have real issues with my hair and scalp and finding a product that works for me is quite hard. I have an itchy scalp, greasy roots and dry ends so a real combination! Shampoos can really irritate my scalp but I need something that actually cleans my hair. In other words, I hate finding shampoos! When I got offered the chance to try natural products, I've got to admit, I was a little sceptical but I'll try anything once so requested the Argan and Amla set.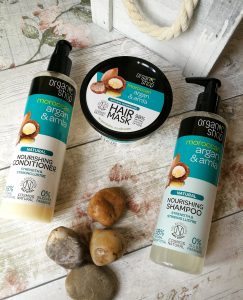 I received a bottle of shampoo, conditioner and a pot of hair mask. The packaging is simple but cute and bottles are pump top which is SO handy in the shower! It also stops you using more product than you need, well, most of the time!
So the Argan and Amla formula is for nourishing, strength and striking lustre. With regular use it's supposed to "help repair damage and increase hairs' elasticity to restore dull, lifeless hair". After spending nearly 6 months on a range of painkillers my hair was looking and feeling a bit worse for wear so I thought this would be a good choice to try and revive it. Even my hairdresser had commented on how thin my hair was feeling when she cut it so I know it's not just me being a bit paranoid!
As I said, I was a bit sceptical given the natural ingredients and even during the first wash I didn't think it was going to be for me. There was no lather on the first shampoo and I used quite a bit. I gave it a second go and got a bit of a lather that time but I still wasn't sure once I'd rinsed it through, it felt a little dirty still. I put some of the conditioner through the lengths of my hair anyway and carried on with my shower. The smell of the products is lovely, it smells natural and not fake like some brands.
I rinsed the conditioner out and left my hair to dry naturally (which I do most of the time as I'm lazy).
It was actually clean, which surprised me given the uncertainty while I was shampooing. My hair looked and felt smoother straight away so I really was impressed.
I've since used the hair mask a couple of times which I absolutely love and I've carried on using the shampoo and conditioner. My hair is definitely thicker again and it looks shiny! I don't think it has actually ever looked and felt so good.
I can manage to leave my hair for around 3 days before I have to wash it again. This really helps my scalp so I'm happy with these products!
They retail at £2.50 each (bargain). There are 5 different haircare sets as well as other products on their website HERE. You can also find them in Tesco.
There are no nasty ingredients you can't read and they are all cruelty free products. The packaging is recyclable so you can do your bit to help the environment too!
I'll definitely be buying these again and may even try one of the other combinations.