I am a bit of a bargain hunter and I love to save money on anything I can. I do surveys for vouchers, shop around to find the cheapest prices and I look out for freebies. This is my best find so far though…. Yes you read the title correct, Clinique bits FOR FREE!
So, how did I do it you ask? It was pretty simple really.
Clinique For Free
If you're a regular to my blog then you'll know I have a Glossybox subscription and I post about it every month.
Well, each month Glossybox offers the chance to answer survey questions on the products. You do it on their website and you earn different amounts for each one you do.
You can also write reviews on the products for extra pennies. Then comes the referrals.
This is what can earn you that little bit more! I post my referral code on my own blog review every month. When people start a subscription through my link, I earn some money for that too! They also get 20% off their first box so it's win win.
These Glossy Pennies you earn can then be used on the Look Fantastic website!
Basically, I've saved my Glossy pennies for a little while and I was having a look at what skincare I could afford using them. I noticed that Clinique were doing a deal: buy any 2 products and get a free gift. I had enough to buy 2 trial size items so ordered these: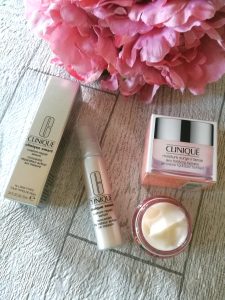 Clinique Smart Custom Repair Serum and Moisture Surge Intense. By ordering these I then got this little haul added on!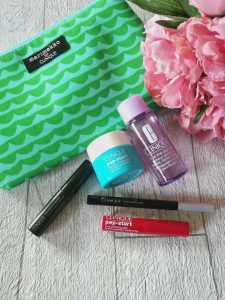 Yes! I got more than I even ordered and the gift was probably worth more than I spent in free money!
So in the gift I got:
the really cute makeup bag
Pep-Start Hydroblur moisturiser
Take The Day Off makeup remover
Pep-Start Pout Perfecting Balm
Pretty Easy Liquid Eyelining Pen
High Impact Mascara.
Pretty good haul and it didn't cost me a penny!
If you want a Glossybox and want to start earning your own Glossy Pennies then click HERE
It's definitely worth £10 a month!!