It's that time again, another Glossybox review! We're now over halfway through the year, seriously, where has time gone??
We've had one of the hottest July's on record and it has been glorious! But because of this, I have decided I'm going to go live in the sea and become a mermaid… This month's Glossybox will help me do just that!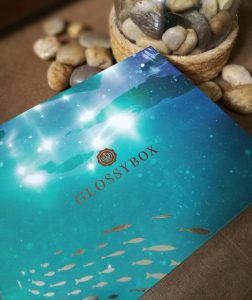 The Beach theme for this month's box is spot on! The box itself is absolutely beautiful with its ocean colours and reflective water look. Unfortunately my box was a little worse for wear in one corner but I think I managed to disguise it for photos.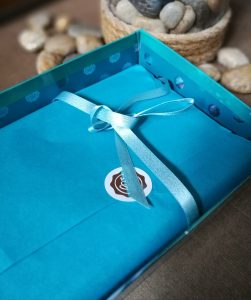 The contents this month were:
Senhor Do Bonfim – Sea Water Hair Spray
Crabtree & Evelyn – La Source Hand Therapy
Oriflame – The One 5 in 1 Mascara
Inuwet – Cheek Shell Brush
Regenerate – Enamel Science Toothpaste
Hawaiian Tropic – Duo Defence Sun Lotion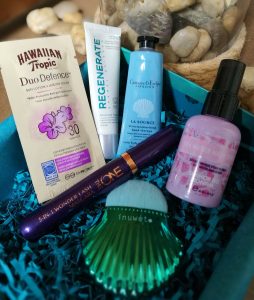 Well let's start from the left like always I suppose.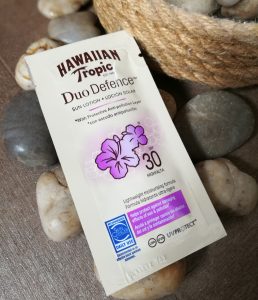 Hawaiian Tropic – Duo Defence Sun Lotion SPF30
I'm not going to lie, I actually haven't tried this. SPF 30 is too high for me now, I'm literally a beach bum born and bread. I have lived in a seaside town all my life so unless I'm abroad and I don't already have a tan, I don't use anything higher than SPF 20. I do use a 30 on the toddler though so I will have to remember to grab this sachet instead of his usual bottle.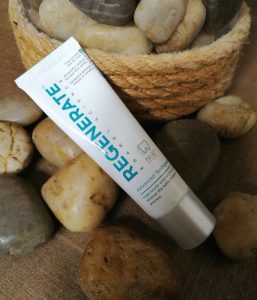 Regenerate – Enamel Science Advanced Toothpaste
This toothpaste is designed to regenerate the enamel and reverse early erosion on your teeth. Now, I had a retainer brace at high school and I was one of those annoying people who would suck it down from the roof of my mouth and push it back up again… Constantly. Because of this, I do have scratches in the enamel on my front teeth. I have been using this toothpaste daily and I've got to say, I haven't seen a difference but would I? They don't claim to whiten or anything, just repair so would you actually see a difference? I don't know. It definitely leaves my teeth feeling good, I can't explain it properly but it feels like a protective film across my teeth. £10 for a tube of toothpaste is a bit much though so I can't say I'll repurchase any time soon.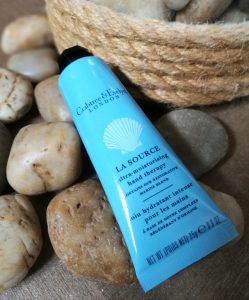 Crabtree & Evelyn – La Source Hand Therapy
I love this cream! The smell reminds me of a haircare product from my teenage years but I just can't place my finger on what it was! It's lovely though and I will eventually work out what I used to use that smells the same!
The cream is a nice thick formula and is absorbs into the skin quickly. It leaves my hands feeling really soft and theres no leftover residue or stickyness.
I think £8 for a cream like this is well worth it! A little goes a long way so it will last a while and honestly, I would pay it just for the smell!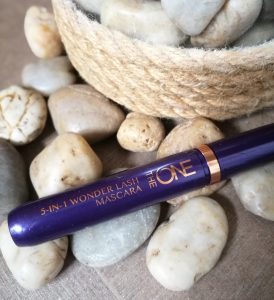 Oriflame – The One 5 in 1 Wonder Lash Mascara
I never tend to believe it when mascaras claim to do wonderous things. This one claims to lift, curl, volumise, lengthen and seperate. I can confirm, it does all of these things!!
I'm not usually a fan of comb style mascara brushes as I don't find they seperate very well and actually, I'm pretty useless with them and tend to stab myself in the eye quite often…
I have got used to using this brush now though and even though I do still stab myself quite often, it is working for me and my eyelashes have never looked better. Even in the heatwave that we have had over the last couple of weeks, this mascara has stayed strong! I don't have it running down my face when I get a bit sweaty and it removes really easily too.
It is, without a doubt, worth the £9 pricetag! I will definitely be buying it again.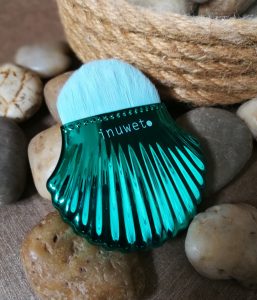 INUWET – Cheek Shell Brush
This is such a cute brush! It has short bristles so it's great for precision jobs like contouring. I've been using it for highlighting and it works perfectly. There's not really much more I can say about this brush, it's pretty, it's soft and it works how it should. £13.20 is a reasonable price for a good brush and come on, it's beautiful!!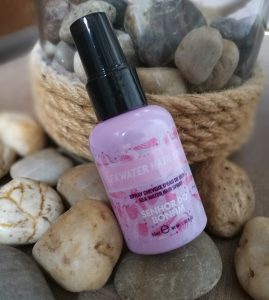 Senhor Do Bonfim – Sea Water Hair Spray
I haven't used a spray like this since I was a teenager, I'm so glad I have one again!! I have long wavy hair anyway and this just enhances the curls so well!! It gives a great beach hair look without actually drying your hair out. Absolutely perfect for a simple summer look and you don't need to use a lot for it to work. It also smells much nicer than sea water!
£16 is a bit expensive for such a little bottle but I do really like it. I think I may look for a cheaper alternative though.
So that's my Glossybox review done for another month! My next one will be here in a week's time. If you want one of your own then click HERE and get yourself 20% off your first box! Bargain! Did you get this month's Glossybox? Let me know what you thought in the comments. Don't forget to Pin the image below.