I've been meaning to make my own Katsu Curry sauce for ages! I have had Katsu since being gluten free but it was a shop bought one from Tesco. Don't get me wrong, it was beautiful but at £3 for 1 meal it's a bit on the expensive side!
This version works out really cheap in comparison and it served 2 adults and a toddler. A toddler who I never expected to touch his dinner, especially not the sauce. But he did, and had extra sauce! I was more than happy to share mine with him given it's vegetable based!
I make mine gluten free by using gluten free bread for the chicken and a soy sauce substitute called Tamari. You can use regular bread and soy sauce if you don't have an issue with gluten though.
You will need a food processor or blender for this Katsu Curry recipe. I used my mini chopper that I bought in Asda a couple of years ago.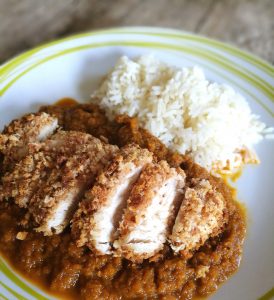 Ingredients (Serves 2)
For the Chicken
1 slice of bread
2 or 3 chicken breasts
For the Sauce
1 tsp of olive oil
2 medium carrotts
1 medium onion
3 cloves of garlic, crushed
600ml of boiling water
2 reduced salt chicken stock cubes
1 tbsp of medium tikka curry powder
1 tbsp of soy sauce/tamari
2 tsp of honey
1 tbsp of tomato puree
1 bay leaf
Method
For the Chicken
Lightly toast your slice of bread, leave it to cool then tear it apart and put the pieces in a food processor. Whizz it up until it makes fine breadcrumbs. Sprinkle some breadcrumbs onto a plate then roll your chicken breast in the crumbs, pushing them on so they stick. You could dip the chicken in egg first but I don't find this makes any difference and actually the crumbs are crispier if you don't use egg.
Once both chicken breasts are coated in breadcrumbs, pop them on a baking tray and cook on 180°c for around 25 minutes depending on the thickness of your chicken. Always make sure the juices run clear!
For the Sauce
Slice your onion and carrots and heat the tbsp of oil in a medium sized saucepan over a medium/hot heat. Now, usually I'd use a spray oil for cooking but I really would advise against it cooking this, you need something that's going to hang around a bit longer and actually coat the vegetables otherwise they will just burn.
Anyway, once the oil has heated, add the onion and garlic and fry for 2 minutes. Add the carrot, give it all a good stir then pop a lid on the saucepan. You need to let the veg sweat for around 10 minutes, stirring occasionally, until it has caramelised slightly.
While that's doing its thing, boil the kettle and measure out your water. Add the stock cubes to the water and stir well, making sure they dissolve.
Once your veg has sweated, add the curry powder and stir well, coating everything in the pan. Next, add the stock, soy sauce, honey and tomato puree and give it another good stir. Add the bay leaf then bring the pan to the boil, reduce the heat and leave to simmer, uncovered for 25 minutes, stirring occasionally again.
After 25 minutes the sauce should have begun to thicken, at this point, pour it into a food processor or blender and whizz it up untill its basically smooth, it will then be a lot thicker! If it's still quite watery, pop it back in the saucepan and continue to simmer for an extra 5 minutes or so but if not, you're ready to serve!
Remove the chicken from the oven once cooked, and slice. Spoon some sauce onto a plate then pop the chicken on top. We had it with rice but you could try something different like noodles. If you have tried this recipe then let me know in the comments section. If you want to save the recipe for later then Pin the image below.