The Mystery Blogger Award
I have been nominated for another award. I love these things, it's just really nice to know that other people are reading what you do and they actually enjoy it.
The Mystery Blogger Award was created by Okoto Enigma and I was nominated by the lovely Elle who you need to go and follow!
So, here are the rules: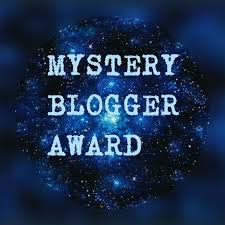 Display the award logo/image on your blog…… Done!
List the rules…. Doing that now.
Thank whoever nominated you and link their blog….. Done!
Mention the creator of the award and link their blog….. Done again!
Tell your readers 3 things about yourself
Nominate 10-20 people. Notify them by commenting on their blog….. I'm lazy, this will be done via Twitter.
Ask your Nominees any 5 questions, with one weird or funny one (specify which is that one)
Share a link you your best posts….. Lazy Beauty Hacks, An Open Letter and Chocolate Brownies
So, 3 things about me:
I'm 31 years young (about 21 in my head)
My favourite music is 00's rock. Linkin Park, Limp Bizkit, Greenday etc.
I am a massive petrol head! Thanks to my OH I have been lucky enough to drive some amazing supercars and it was one of the best experiences of my life!
The questions I got asked:
1. (Weird/Funny) If you were in the finals of I'm a Celebrity Get Me Out Of Here which 3 course meal would you choose?
I am gluten free so I would choose things I can no longer eat! Starter would be either Pizza Express doughballs with garlic butter or garlic bread with cheese. Mains, stuffed crust, meat feast pizza. And for dessert it would be either cheesecake or profiteroles… or profiterole cheesecake…
2. Do you prefer Apple or Android?
Android. I have a (ir)rational hatred of all things Apple.
3. What makes you happy?
My family.
4. What weird trend do you wish didn't exist?
Erm… Flossing. The dance, not dental hygiene.
5. If you could go back and relive one day what day would you choose and why?
As mentioned above, my Supercar race day. As much as I'd love to relive the birth of my children.. that was really painful and I don't want to do that again.
Here are my nominations. Some of these will already have been tagged I know but I'm tagging them again because I think they're awesome!
And my questions to you guys are:
1. When you're drafting blog posts do you write your ideas in a proper notebook or the one on your phone?
2. Which Social Media platform is your favourite?
3. Who is your biggest inspiration in life and why? Can be anyone you want.
4. What was the most recent film you watched?
5. (weird/funny) If you could be any fruit what would you be and why?
That's me done! Thank you for the nomination and I look forward to reading what my nominees write if they haven't already done it!