An Open Letter To The Girl On The Bench
You could only have been 19. Sat outside the shops on the bench next to me, pouring your heart out to who I can only presume is your Dad. Saying he doesn't care but it's clear that he does; he's there and he's listening, letting your snarky remarks bounce off him like rain.
By the sounds of it, you're blinded by love. We've all been there but sometimes we get caught up wearing those rose tinted glasses and the outside world doesn't see what we do; the outside world sees it clearly.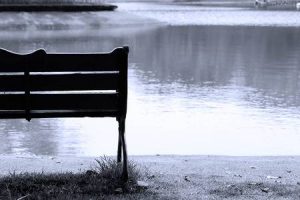 Your Dad is desperately trying to talk some sense into you, to get you to leave him; the man "borrowing" your money for drink every pay day because he's already broke. He tells you to forget the money he owes you and leave, he has clearly listened to you tell this story before as his voice sounds almost fed up.
You say you're going to end up alone, on the streets. Dad reassures you that you never would and you'll always have a home with your family. You shrug that comment off though.
As a stranger, I just want to tell you that I've been in your shoes, not just once either. You are stuck because you think you have no other option, you think this is as good as it gets, you are wrong.
You don't have to live your life in someone else's shadow, thinking this is all life has to offer. You clearly work hard at whatever you do from the amount of money your "boyfriend" owes you so own it! Take your Dad up on his offer and go home, save your money and set up your life the way you want to live it.
I saw you as we left, as we walked past you watched: Mum, Dad and the toddler in the middle, holding both our hands. It looks like the perfect family setup but what you don't know is I have an 11 year old who is at her Dad's this weekend. We won't go into that story now but believe me, it took me years to get to this point and have this level of happiness, you will get there too.
Just please remember, you are worth more than you think right now and you do have support even though it may not look that way through your rose tinted specs. The fact your Dad is sat with you on that bench is amazing, the man talks sense and he adores you more than you realise. He just wants the best for you.
Good luck Girl On The Bench, I hope you find your self-worth and happiness.