Gluten Free Chocolate Brownie Muffins
I can't bake, I don't know if it's because I haven't got the patience or I am genuinely just awful at it but anything I've ever tried has always come out terrible.
I've been eating more cake since I went Gluten Free than I ever did before. Shop bought cakes are ridiculously expensive and my shopping bill is now so much higher because of it. I decided to save myself some pennies and make my own! I scoured countless different recipes (gluten and gluten free ones) but decided a flourless, gluten free chocolate brownie would be the best option. Then I don't feel like I'm baking so less will go wrong… Right?
Well, old "can't bake, won't bake" over here managed to smash it out of the park with this recipe!! I amazed myself and I've made 36 muffins for around the same price as 2 cupcakes from the supermarket!! Bargain!!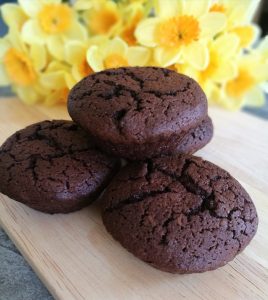 Ingredients (Makes 12)
280g of cheap dark chocolate
56g of unsalted butter
120g of granulated sugar
30g of soft brown sugar
20g cocoa powder
3 large eggs
2 tsp of vanilla extract
Pinch of salt
Method
Weigh out your sugars and cocoa powder into a large mixing bowl, add the eggs, vanilla extract and pinch of salt and whisk throuoghly making sure all the ingredients are combined.
Cut the butter into cubes and break up the chocolate and put them in a microwavable bowl. Microwave on a medium heat for 30 second intervals, stirring each time and being careful not to burn the chocolate. Once it has melted, add the chocolate and butter mix to the sugar and egg mix and whisk thoroughly again.
Spoon the mixture into 12 silicone cupcake cases that are sat in a muffin tray. There should be enough mixture to do roughly 1.5 tablespoons per case.
Pop the tray into a preheated oven on 170°c for 20-25 minutes.
Once the tops have crisped a little, remove from the oven and pop them out of the cases onto a cooling rack.
Eat warm or keep them in an airtight container for up to 5 days (if you can resist not eating them for that long!)
You can of course make this as one big brownie but I recommend using silicone cases as this will stick to a regular tin!
If you try this or any of my recipes then let me know or tag me in a photo on Instagram!