I was lucky enough to be gifted the most amazing Himalayan Pink salt at the end of last month from Monsoon Season. I've been using it loads in my cooking and I'm absolutely in love with it! It brings out the flavours of my dishes so well just from the smallest pinch. I actually called it "the saltiest salt I've ever had".
Well last night I decided to try out one of its other uses and make a Salt Scrub. I never realised how easy they are to make and I actually had the ingredients lying around the house!
All you need is:
A small jar with a lid
6 tbsp of fine salt
2 tbsp of oil (I used a good Olive Oil but you can try something different like coconut)
10 drops of an essential oil (for the smell)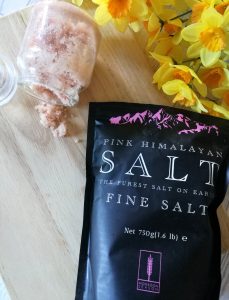 It is literally a case of mixing the ingredients together in the jar and then using it! Measure out your salt then add the other ingredients. It's naturally pink because the salt is that colour but you can always add food colouring if you fancy changing it.
This made enough for 2 uses, hence why I said to have a jar with a lid. You can always make more and use a bigger jar! You can change the effect slightly by changing the essential oil you use too. I had a menthol smelling one which really refreshed my skin, it's probably a good one to use in the morning whereas a lavender smell would be good for evenings to relax. Just remember this is a body scrub and don't use it on your face, it's far too harsh!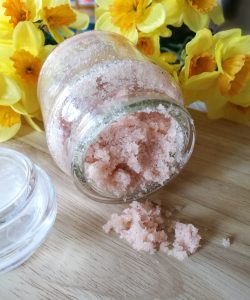 It left my skin feeling really soft and it got rid of the dry skin around my ankles really well! I don't think they've ever been that soft to be honest.
This would make a great, inexpensive gift for someone and it's a nice treat for yourself, without costing a small fortune.
If you want to buy the same salt I have used then you can do HERE Like this post? Leave a comment or Pin for later.