September 18 Glossybox Review
I can't believe we're at the end of September already! Where is this year going?
September is of course "back to school" month so the September 18 Glossybox theme follows that. The items are handbag and beauty essentials that can help you get back on track and into the school run routine again.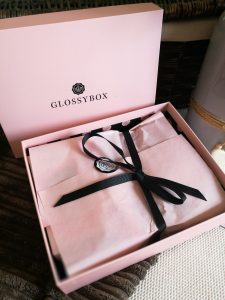 I really like this month's box, it was nice to have such a mix of products. Here's what was in it: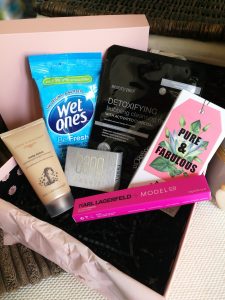 We'll go left to right this month and start with…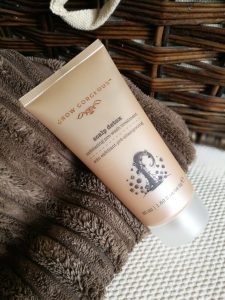 Grow Gorgeous – Scalp Detox
We're actually starting with the product I like the least. It's like a scrub for your scalp, designed to remove impurities and promote healthy hair growth. I've got quite thick hair so putting little beads in it, right at the roots, wasn't much fun. Trying to wash them all out was almost impossible. It took me a good 10 minutes to get most of it out and after that I just gave up! They had all come out by the time I'd finished washing my hair though.
I can't say my scalp felt any different but it didn't irritate it so that's a bonus. I suppose I won't know if my hair does actually grow any healthier unless I keep using it. At £28 for a full size bottle, I won't be finding out! It's really not worth the hassle of the extra 10 minutes in the shower.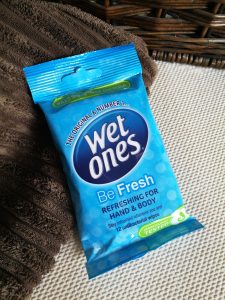 Wet Ones – Be Fresh Antibacterial Wipes
Well you couldn't get more of a handbag essential when you're a mum! If I'm out with the kids it's very rare I don't have a pack of wipes on me. Having antibacterial ones is an added bonus though. Anyone who has a toddler will know how grubby they are! They manage to find sticky patches in all sorts of places and they always need their hands washing.
At £1.19 these really are a must have! The pack is small and really doesn't take up much room in your bag. They also smell nice too! I will definitely buy these again.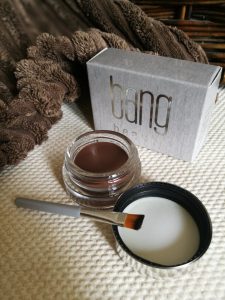 Bang Beauty – Eyebrow Cream
I'm always a little wary of eyebrow products when you have had chance to colour match them. I have quite dark eyebrows but too dark and I have the most epic resting bitch face.
This little pot comes with its own angled brush and claims to give you HD brows at home. Well, I can confirm, it does work!
The colour matched me perfectly and it goes on really well! It does take a little more work than a powder and I did get a bit of fallout from it. Being a thicker consistency though, the fallout is more like little balls of wax so easy enough to remove.
Because it is slightly waxy, it keeps your brows in place all day. This means my new eyebrow mascara has been made almost redundant already! I honestly love this product and the £16.80 price tag is more than worth it! It will last for ages so I feel it's a good investment.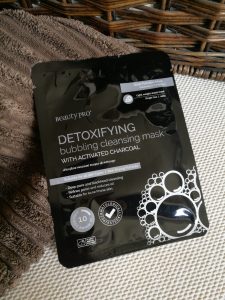 Beauty Pro – Detoxifying Bubbling Mask With Activated Charcoal
I am scared of using face masks so this was the last product I used this month.
I don't tend to have great reactions to them and with this one being a cleansing mask I was extremely cautious. My fears were actually pointless though! It's only a 10 minute mask and you can literally hear it bubbling! It creates its own foam which feels really lovely on your skin.
Once removed and the foam washed off, my skin was left feeling really soft. I don't get too many blackheads so I'm not sure it helped them but I'd use this mask again. £4.95 is a pretty standard price for sheet masks so I'd give this one a go again.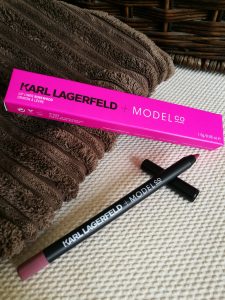 Karl Lagerfeld + Model Co – Lip Liner in Rosewood
I don't see a point in getting a lip liner without a lipstick that matches…. Just me? I'm sure I'm not alone on this one BUT… This actually makes a really good lip crayon!
It's a wax so goes on really easily. Of course, it's not as big as proper crayon which means you will have to sharpen it more often. It's got great staying power though and I only needed to top it up after I'd eaten. The downside to this product is its price. £25 is pretty hefty for a lip liner. I wouldn't pay out for it but that's because I'm tight and my Primark lip crayons have the same consistency and staying power for an absolute fraction of the price. But that's me!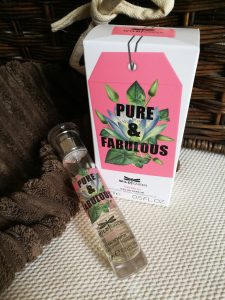 Wild Garden – Pure & Fabulous Eau De Parfum
This is such a refreshing smell! It's really fresh smelling with a mix of fruit and flowers. I'm quite picky with my perfumes so for me to say I like this is a big thing! I don't do flowery, overly sweet smelling scents and this is exactly something I would go for.
At £12 a bottle I think this is an absolute bargain! I love the look of the packaging too. It's bright and eye catching but can also fit in your bag quite easily. It's almost like a test tube that you used to use at school in science.
So that's September 18 Glossybox review done! I'm looking forward to seeing what will be in next month's box and if you want one then click HERE. You can get yourself 20% off your first box and join me in trying new products each month!