I normally try making recipes at least twice before I post them on my blog but I had quite a few requests on all my social media accounts for this Creamy Chicken Pasta.
It was quite simple to make and it came out really well so there's no point holding out to make it a second time.
Everyone in my house thouroughly enjoyed this and it's definitely going to be something I make regularly as it's not much effort to make which is right up my street these days!
This does require a slow cooker but it's not a recipe you can leave all day as it doesn't take long to cook (in comparison to most slow cooker meals).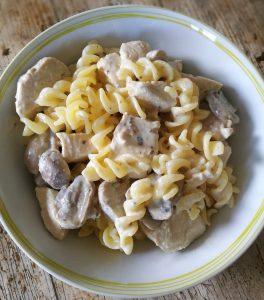 Ingredients (Serves a family of 4)
350g Diced Chicken Breast
150g tub of garlic and herb soft cheese (I used a light one)
60ml of boiling water
1/2 a reduced salt chicken stock cube
100g of mushrooms
1 tsp oregano
As much pasta as you require (I always do too much!) I use gluten free
Method
Dissolve your stock cube in the boiling water and then let it cool. Once cooled, whisk the stock with the cream cheese until completely mixed.
Add the chicken and sliced mushrooms to your slow cooker and then pour the cream cheese and stock mix in and add the oregano. Give it all a good stir then pop the lid on and set the cooker to Low.
Leave it for 2 and a half hours, giving it a bit of a stir every hour or so.
After 2 and a half hours, remove the slow cooker lid and switch it to High then leave for another half a hour, this will thicken the sauce.
10 minutes before the sauce is ready, cook the pasta.
I just spooned the chicken and sauce over my pasta as I do 2 different pastas (one normal one gluten free) but you could add the cooked pasta to the slow cooker then give it a good stir to coat the pasta before serving.
Enjoy! Want to try this recipe? Pin the picture and save it for later!