Ecosoapia – Natural Soap Review
I'm really loving natural products at the moment. I've tried body creams and the loveliest shampoo and conditioner combo which you can read about HERE, among other things. It's just nice to use products that don't contain any nasty ingredients that you can't read the names of! It's better for your skin and for the environment.
I was sent a bottle of Ecosoapia to try and the first thing you notice about it is the label. Just WOW! It was designed by David Smith who is regarded as the best calligrapher in the world and you can see why! The detail that has gone into the design is just incredible which makes for beautiful photography. It took me a while to do this bottle justice photography wise. I tried multiple backgrounds before I settled on this. Even then, I think it deserves a better photographer.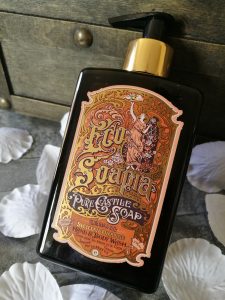 I chose the Sicilian Orange scent as the colours go with my bathroom, and also it was my favourite from the ones available. It also comes in Rose Geranium, Lavender and Unscented.
Straight away you can tell that it's made from natural ingredients. It smells beautifully natural and like soap should. There's something reminiscent about it, it reminds me of when I was little, but maybe that's just my age showing now; I remember when soap smelled like soap!
It doesn't dry your skin out like old school soap does though, in fact it leaves my hands feeling quite soft and moisturised. It has natural antibacterial properties too so you know it is actually cleaning your hands.
Ecosoapia is vegetarian certified, cruelty free and Allergy Association approved. It has won different awards for its packaging and a natural product award so you know it's not just me saying it's good! This is genuinely award winning!
It's priced at £7.90 a bottle and available online HERE
There is a full range of bath and body products in development so this is definitely a company to watch! If you like this post then please do leave me a comment or Pin the picture below.