I was asked to trial XO Balm as I get patches of dry skin on my arms and legs at times. I use moisturiser pretty religiously after a shower or bath in order to stop them from getting too bad. So when I got offered the chance to try a multi-use, natural balm of course I jumped at it.
Natural products are a big thing for me these days; shampoo, soaps, you name it, I'll try it! I just feel like it's nicer to know what you're putting on your skin and hair rather than using something with a million ingredients that you can't read. Yes they are slightly more expensive but I think they're worth it a lot of the time (definitely the products I've tried anyway!)
I want to start with how cute the packaging of XO Balm is! It's a gorgeous little button tin that would look adorable on any dressing table! Being in a tin makes it perfect for popping in your bag too. There's no worry about the product leaking as the seal is really strong plus, it doesn't melt! There's a mirror in the top of the lid which is really handy if you're using it as a lip balm and just in general, it's always handy to have a mirror!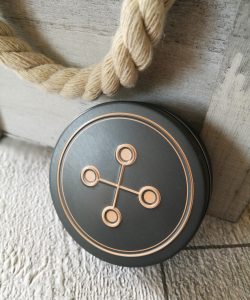 XO Balm is made from just 4 ingredients: Beeswax, coconut oil, chia seed oil and olive oil. So no nasty ingredients you don't understand and it also doesn't really smell of anything either. There's no chemically smell that you get from petroleum jelly and as there's no artificial ingredients which also means no artificial smell. XO Balm is such a simple product in so many aspects but it's really effective at what it does.
I started using it on my main dry patches around my elbows and my ankles. After a couple of uses I have noticed a considerable difference in the texture of my skin. It's a lot softer than it was and it doesn't look dry and patchy now.
It is a little difficult to get out of the tin but the applicator does make that job slightly easier. It's been some of the hottest weather we've had recently and this still doesn't melt so I'm interested to see how hard it will go in the winter!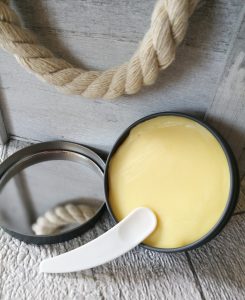 But, it warms up and melts easily enough in your hands when you do manage to extract some. This makes it a lot easier to apply to the areas you need it.
Another use is as a lip balm. It's a little too lumpy for me and it leaves a bit of a residue. I have though, loved it during the night! I put it on as I go to bed and wake in the morning with soft, supple lips.
I'd definitely recommend XO Balm for dry skin and as an overnight lip treatment. There are so many other uses for it though. Go have a look at their website HERE for other ideas and also to buy some. It is a little more expensive than your average pot of vaseline but the pot is quite big and it will last. If you want to try it first without shelling out for the full size pot then XO Balm do offer a trial size.
Let me know if you've tried it in the comments. I'd love to know how other people found it.
Thanks for reading!