Lavera Natural Makeup Review
I was gifted a range of makeup products by Lavera and this is my honest review.
I've been following Lavera on Instagram for a while now as I am really interested in natural products. I try to use as many as I can as they tend to be better for my skin and the environment too.
Lavera's products are 100% certified as natural and the do a huge range of makeup and skin products. Some of the products are Vegan Certified too but you'll have to check their website to be sure of which ones.
I am a little obsessed with makeup so when they asked me what I wanted to try it was a quick decision!
So I received: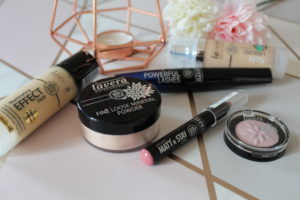 Soft Liquid Foundation
Illuminating Effect Fluid
Fine Loose Mineral Powder
Beautiful Mineral Eyeshadow
Powerful Lashes Mascara
Natural Matt'N Stay Lips
Enough to create a whole face!
I'm always a little wary of ordering foundation when I can't try it to test the colour. But I gave a description of "not the palest but still quite white with a warm undertone". I've got to say, the guys over at Lavera matched it perfectly! I'm really not sure how.
So let's start with the foundation.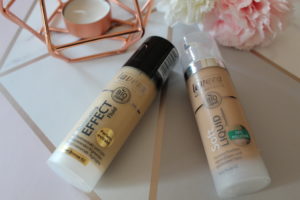 I don't often wear liquid foundation as I find it always looks cakey and clogs my pores up too much. Every time I wear it I have a huge spot breakout a day or so later.
This doesn't do that to me though! It's a light coverage (which you can build up easily). It doesn't sink into my pores and make them look huge, it gives me a nice even skin tone and you can still see my freckles.
I definitely prefer the more natural look and this does the job perfectly.
I also haven't had a breakout either. I've had a couple of little spots but nothing like I'd normally get. The colour I have is called Ivory Nude.
The Illuminating Fluid is also pretty good. It just gives you that dewy glow that everyone craves. I've been using it as a highlighter really and just using a little on my cheekbones. It's a lovely formula and a little goes a long way. It comes in 2 colours, this is Sheer Bronze.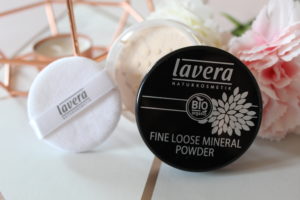 Next up is the loose powder. I've used this pretty much every day instead of my usual one. The coverage is great and even though its a powder it still gives you a bit of a glow.
It's has amazing staying power though, I'm actually amazed by it. It stays put all day and doesn't dry my skin out. I'm guessing this is because it's a mineral powder and not just a cheap one.
So that's the base done, let's move on to eyes.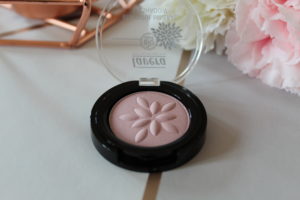 The eyeshadow single compact looks lovely but it's not the most pigmented colour. It's good as a base but it's just really pale. I would like to try some of the other colours really just to give them a fair chance. The range of colours is pretty good, with most of them being matte. There's almost no fallout from it but this Matt'n Yoghurt colour pretty much blended to nothing.
The mascara on the other hand…..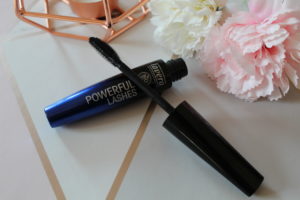 I think I have a new favourite!
The Powerful Lashes brush is a double sided one with a shorter comb one side and a long one the other. The long side combs through lashes perfectly and adds a good amount of length. The short brush is good for getting to the root of the lashes and adding volume.
As with most mascaras, I do get a little panda eyed by the end of the day. But I'm talking 12 hours wear before I get that!
I'm totally in love with it. It gives me a false eyelash look without the faff!
Last but by no means least…. Lips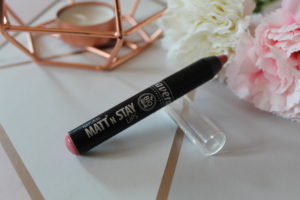 I love a lip crayon and this is no exception.
This colour is Matt'N Rose. The formula is creamy and glides on easily. It stays where it's put and is a lovely matte pink. It's got some staying power but it's definitely not the best I've tried. It lasted a good few hours though and was easy to reapply with no feathering so I'm not complaining.
The other big bonus for me is, it's gluten free. I know I know, I'm not supposed to eat it. And I don't. Well not on purpose anyway. If you think of the amount you lick your lips throughout the day though, you'd be surprised just how much you do ingest. For someone who has an issue with gluten, this can actually be a massive problem and can cause "glutening" effects which can be pretty awful.
Lavera Natural Makeup Review Final Thoughts
I love these products! The only thing that let this set down for me was the eyeshadow but I think darker or brighter colours would probably be better.
Everything else is fantastic though and there are definitely a couple of new favourites in there!
Go take a look at their extensive selection on the website. Or go check out their Social Media pages!