The 5 Worst Things About Living With A Blogger
My other half gave me the idea for this post the other day. I made him wait for his dinner as I needed to photograph it for a new recipe post. While I was faffing, he took some photos of me, taking photos.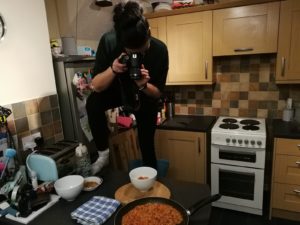 Yes, this is the extreme I will go to to get pictures. Annoyingly, the photo didn't even come out that great!
My lighting is a bit bleurgh in the kitchen and I am considering investing in some lighting of some sort to rectify this. But that will probably just give him more ammunition to take the piss.
After we finally finished dinner, he showed me the pictures and we had a chuckle about the annoying things that come with my "hobby". He was reeling off things, which I didn't quite expect! But I wrote them down because I figured it would make for good reading!
So, these are the things my other half has decided are the 5 most annoying things about living with a blogger.
1. Boxes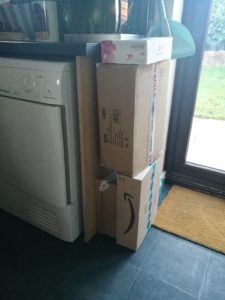 His View – There are always empty boxes everywhere.
I'm quite lucky with the stuff I get sent but some weeks can be a little mad. This is what last week looked like…
It may not seem like loads but given the Amazon box was for a couple of packets of crisps… It's a little overkill. But that's Amazon for you!
My View – I don't often have weeks like this where I get sent that much. It's usually sporadic and normally smaller boxes. I just had Amazon go a little mad and got sent something else on the larger side.
2. Wallpaper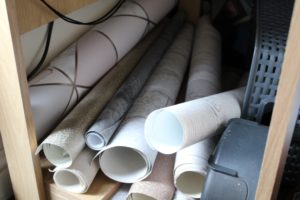 His View – Under the desk is just loads of rolled up samples of wallpaper.
Wallpaper is fantastic for backgrounds! Keeping it rolled means it doesn't get creased and it's so easy to store like that. Yes, I may have gone a little over the top with white wash wood effect ones but they can easily get dirty being a food blogger.
My View – I have free backgrounds! I'm not spending 20 odd quid a time on a background board. Which, by the way, would be harder to house somewhere.
3. Waiting To Eat Dinner
His View – My dinner is on the side, I can see it but I'm not allowed to touch it.
I've got into the habit of photographing my food with his in the background. It looks better for Instagram and it means I don't have to get the wallpaper out for a pretty background. I can just plonk the plates on the island in the kitchen and voilà, pretty enough picture accomplished. I get to eat a hot dinner but still get my picture.
My View – I cooked it, you can wait an extra 10 seconds.
4. Props
His View – Fake flowers in every vase, candle holders, wooden crates and so many notebooks and pens!
Every budding photographer needs props! I also like pretty things so blogging and photography has become an excuse to buy them. I am pretty frugal though so I never spend much (hence the wallpaper samples!).
My View – They are investments. The house looks prettier because of them, there's additional storage and…. Well, I like them.
5. Being Stared At In A Restaurant
His View – This is a little embarrassing. You know the staff are being extra nice because they've been told to be.
This isn't just my other half that has experienced this with me, my mum has too. It's amazing being welcomed into food establishments like a minor celebrity. I'm not boasting, I actually feel slightly embarrassed in these situations too. But there is something about people knowing who you are and being treated to impeccable service. Being a food Instagrammer certainly has its perks!
The down side is other patrons trying to work out if they should know you too. You do get stared at quite a bit at times.
My View – Just enjoy your food…. But let me take a photo first please.
So there you have it! 5 reasons not to live with a blogger! Or 5 reasons TO live with one, depending on how you look at it.
If you're looking for more reasons why not to be a blogger then check out my post My Top 5 Pet Peeves With Blogging. Not that I'm trying to put people off! It's all good fun really.