Roasted Sweet Red Pepper And Tomato Risotto
I love a rice dish! They're perfect for any time of the year and always guaranteed to fill a hungry tummy.
This particular recipe is vegan, gluten free and dairy free but doesn't compromise on taste whatsoever!
I'm not even vegetarian but I would like to try a few more veggie/vegan recipes this year. I really enjoy a good veg based meal so there's no reason to have meat every day. It also reduces calories so win win really!
Risotto is one of my favourite rice dishes and speaking of meat, you can find my chicken and bacon risotto recipe here.
Ingredients (Serves a family of 4)
2 large sweet, red peppers
1 medium onion
2 tsp of Lazy garlic
250g of risotto rice
1 tin of chopped tomatoes
A litre of vegetable stock
Half a tsp of dried oregano
1 tbsp of tomato puree
Pinch of salt and pepper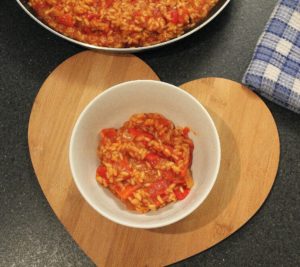 Method
Start my halving and deseeding your sweet peppers. Pop them on a baking tray skin side up. Spray lightly with cooking spray then put them in a preheated oven. 180° for about 15-20 minutes should do it. Just keep an eye on them for the edges to start charring.
Whilst they're cooking, dice you onion and prepare your stock.
When the peppers are done, you need to peel them. This should be a simple process but it can be a little tricky at times. Mine normally come off in one fell swoop. Hopefully yours will too! After you've managed to peel them, chop them into nice sized chunks.
Spray a large, high sided pan with cooking spray and warm over a medium/high heat. Once warmed, add your onion.
Let that cook off for a couple of minutes then add your garlic. Keep frying that off for another couple of minutes until the onion starts to go clear.
Add your pepper and the oregano and give it all a stir. Next, add the rice.
Toast the rice, making sure you keep it moving in the pan so it doesn't burn. After about a minute, add your tin of tomatoes and half the stock. Again, give it all a good stir.
Add the tomato puree and a pinch of salt and pepper to taste. Stir again.
Bring the pan to the boil then reduce to a medium heat.
Now comes the labour intensive part. You have to let the sauce thicken then add a little more stock, stir. Keep doing this until the rice has cooked and the liquid is near on non-existent. It should take around 20 minutes in total. Just be careful no to let your rice stick to the bottom of the pan.
You can always add more hot water if you run out of stock but a litre will normally be spot on.
Once your rice is soft and sauce is thick, serve and enjoy!
I think this would be perfectly finished with a bit of fresh parmesan grated on top! That kind of ruins the vegan and dairy free aspect though!