Curry Loaf is by far one of the best things I make! It's so simple, only uses a few ingredients and it makes enough to last all week. I have mine with salad for lunch or just on its own as a snack when I'm feeling peckish.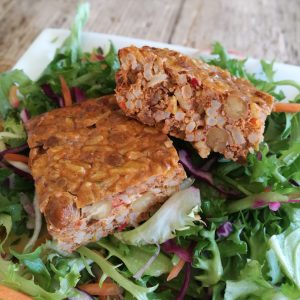 Ingredients (makes 9 slices (well it did for me))
1 pack of golden vegetable rice
1 can of chickpea and lentil dhal (I use one from Asda)
3 eggs
1 tbsp of curry powder
Method
In a large microwavable bowl cook the rice as instructed on the packet. Mix the rest of the ingredients into the bowl, making sure it is really well stirred together. Tip the mix into a loaf tin, or in my case a deep tray, that has been sprayed with Frylight then pop the tin in the oven on 200° for 30 minutes.
The chickpea and lentil dhal I use is from Asda but you can find different ones in different supermarkets.
I keep mine wrapped in foil in the fridge and it lasts up to 4 days but I tend to eat it all before the 4th day, it's far too tasty to be left sitting!
Enjoy! If you make this recipe then let me know in the comments. Or you can always Pin the image below to save it for later.