September Glossybox Review
I'm still very much in love with getting a Glossybox each month, it's nice to try things you wouldn't necessarily buy yourself. We all have our own beauty routines and favourite products that we don't stray from so getting this box is a chance to try something new and every so often, you discover a new favourite.
So this month we had the classic pink box back for a month and this is what is contained: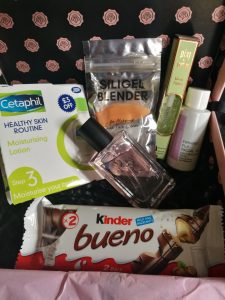 Cetaphil Mini Skincare Trio
Siligel Blender
Jeanne Arthes L'Eau de Rose
Pixi by Petra Brow Tamer
Monu Skincare Facial Oil
Kinder Bueno
I've got to start with what is quite clearly the best item in the box this month;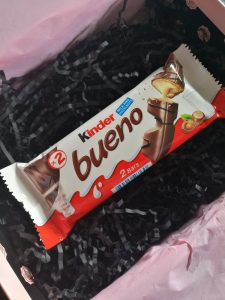 Kinder Bueno
I mean, come on, who doesn't love a Bueno!! I'm (obviously given half my blog is dedicated to it) on Slimming World so I saved this for a night I had enough syns to use as it's nearly my daily allowance! But it was SO good!! I wish they sent out chocolate every month.
Cetaphil Mini Skincare Trio
I had never heard of Cetaphil so I'm just going on what the Glossybox card says, apparently the cleanser is used backstage in the fashion world to remove makeup but it cares for sensitive skin at the same time. I can agree that it definitely works on sensitive skin. You can use it on dry or wet skin to remove makeup and as a facial wash, I've mainly been using it as a face wash as I've finally run out of the amazing milk cleanser I had in my Glossybox a few months ago. The trial pack also included a moisturising cream and a lotion. The cream is nice and thick and absorbs really well, it works wonders on dry skin patches! I used a dab on my ankles as the dreaded winter dry skin is starting already and it's cleared up the issue after one use. I wasn't so keen on the lotion but that's just because I'm not keen on lotion, it's too thin and I just end up spilling it because I'm clumsy. It's still a good product though and did leave my skin nice and soft. The full size bottles retail at £14.99 and £8.99 for the cream, I wouldn't personally pay that much for a cleanser though I think that's a reasonable price for the cream.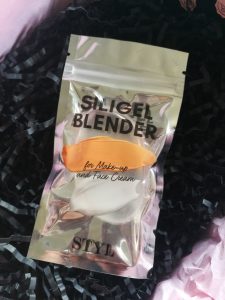 Styl London Siligel Blender
The first thing that crosses my mind when I see these things is that they look like the gel inserts you put in your high heels to stop the balls of your feet from hurting. It does make me wonder if that's what someone used as they couldn't find their sponge and though "hold up, this works!" so made a slightly different shaped, thicker version. Anyway… I digress. It took me a while to use this as I don't wear cream foundation very often, and when I say very often I literally mean only for nights out/special occasions. I'm pretty lucky that I have pretty good skin these days so just wear a dusting of powder. So, I had to purposely put on a full face of makeup in order to try this out. I must say, you definitely use less foundation than you would with a sponge or a brush, it spreads the foundation really well and I only used a tiny bit for each section of my face. I don't think it blends very well though as it doesn't get rid of the excess, I still had to use my sponge or fingers to blend the foundation around the edges of my face and hairline and it also didn't work great around my eyes so again I used my sponge for that. I'll definitely use it again (party season is coming up so I'll actually have to wear foundation) but I'm glad I didn't buy it; though £5.99 isn't a bad price for it.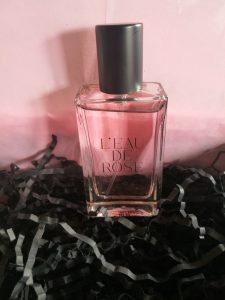 Jeanne Arthes L'Eau de Rose
This is something I've not had in a Glossybox so far; perfume. It's a very girly, flowery fragrance which isn't something I'd usually go for (I'm a Black XS kind of girl) but I like it. It's what I'd call a "classic" fragrance as it's based on roses and I could imagine it being on my nan's dressing table when I was little. The scent is light and definitely not overpowering which is why I don't usually like flowery perfumes but it lasts, I could still catch a whiff of it by late afternoon. Overall I'm quite liking this perfume and the £20 price tag is good too.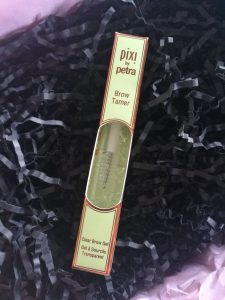 Pixi by Petra Brow Tamer
This is one of my favourites from this month's box. I've just been using wax to keep my brows in place but I find it can go a bit bitty at times so this has been a saviour! I'm using it every day. The box is a little deceiving as it's almost twice the size as the product inside but with how long it will last, it's not the worst thing. This is essentially a clear mascara; it's a little wand and clear gel that you brush through your finished brows to shape and set them in place. It is long wearing and for me it lasts all day so I really love it, I always found I'd have a little group of brow hairs trying to work their way down my eyelid by the time I left work using wax. I think £12 is a little steep but given how little you use, it should last ages so I'd see it as an investment.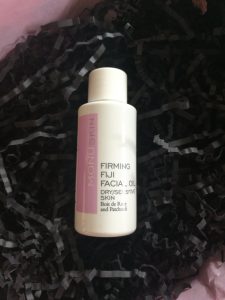 Monu Skincare Firming Fiji Facial Oil
This is my other favourite this month. I thought, being an oil, it wasn't going to do my skin any good and I'd break out in spots but oh, how wrong I was. There was (and still is) no way I'd use this as a daytime thing, it leaves my face far too shiny but as a night time moisturiser it's amazing! After removing my makeup and washing my face I put a bit (probably a bit too much) in my hands and massage into my skin. It doesn't absorb straight away but I don't really care when I'm just going to bed. It smells amazing too, made with essential oils, it's really relaxing so makes this an even better product to use at night time. In the morning my skin does look and feel better, though I wouldn't necessarily say firmer. I'm in love with this stuff though and wondering if I can justify £26 pounds to buy it again or whether baby oil with some lavender in would just do the same thing? I'll have to put it to the test one night.
Well that's it for this month, it won't be long till the October box is out though and I find out if I'm a Unicorn or a Mermaid with the special edition boxes…..
Thanks for reading!