August Glossybox '18 Review
It's that time of the month again: The August Glossybox time!
I've managed to get through the products quite quickly this month. The main reason being, it was mainly makeup and the 2nd reason being, I didn't try some of it.
So the theme this month was 'Pride'. It was of course Brighton Pride this month and I think it was a great theme for this month's Glossybox. The special edition box looked great!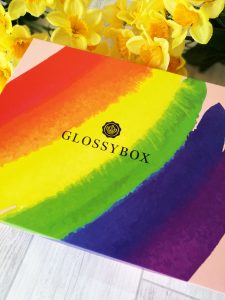 The multicolour, paint splashed, rainbow lid looks beautiful. The inside looks just as good with the rainbow dots on the ribbon.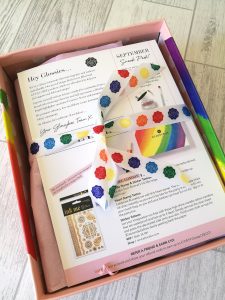 Everything about the theme was fantastic, it's a shame about some of the products.
Let's have a little look at what was inside.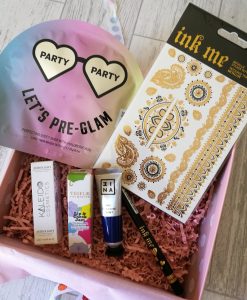 Going clockwise,
Victoria's Secret Pink – Let's Pre Glam Perfecting Sheet Mask
Rimmel London – Ink Me Sticker Tattoos and Stamp
3INA – The Shadow Paint 703
Trifle Cosmetics – Lip & Cheek Jam
Kaleido Cosmetics – Astrolight Highlighter
As usual I'll start from the top and work my way down.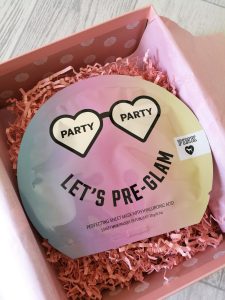 Victoria's Secret Pink – Let's Pre Glam Perfecting Sheet Mask
This mask is designed to use before going out…. Only problem there is, I don't go out. It's meant to give you a flawless base before applying makeup so I decided to use it one morning instead. I always find sheet masks a bit of a pain. They never seem to fit my face properly.
I quite liked this mask though. I had no nasty reaction like I do with a lot of them and my skin felt really good. My complexion looked a lot smoother and my makeup went on perfectly. A fiver for 1 mask is a little much but it's really good so I may well buy one again.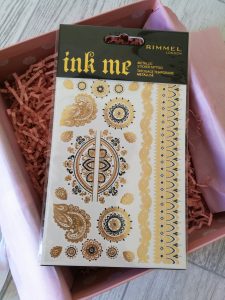 Rimmel London – Ink Me Sticker Tattoos
I know this box is all in the festival spirit but really? I'm 31 not 13. It's safe to say that these went straight to my 11 year old who loves them! As did the next product…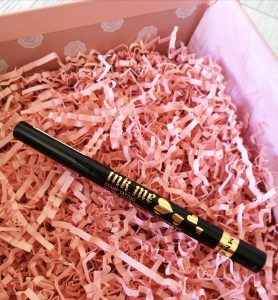 Rimmel London – Ink Me Stamp
This is like an eyeliner but it leaves little tiny hearts.
Both of these are £4.99 each. Great, if that's your thing I suppose.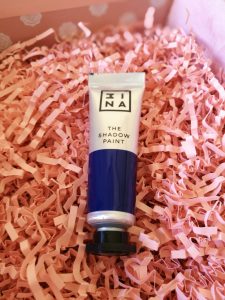 3INA – The Shadow Paint 703
This is a cream eyeshadow in a blue shade. It depends what look you're going for as to how dark it is, you can start quite light then build it up. I found it to be really streaky though so I tried using it as a liner. This worked quite well but still not great. Because you have to get the eyeshadow out of a tube I ended up with it everywhere! I only put a small blob on the back of my hand but somehow it ended up in my leg, belly and chin. I'm not even sure how.
At £8.95 it's a no from me and I probably won't use this again.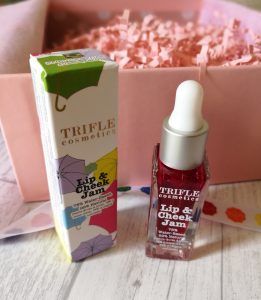 Trifle Cosmetics – Lip & Cheek Jam
I gave Trifle Cosmetics a little bit of a hard time in a previous review but it was slightly unfair. I now use that pallette almost daily, only for one colour though.
This is a cheek and lip stain in a cherry colour. I did expect it to be a bit more pigmented than it is but it does leave a lovely natural flush. It's matte too so there's no sheen.
I'm not sure I'd spend £17.50 on it but it should last quite a while so it would be a good investment. I really like this product and have used it pretty much every day.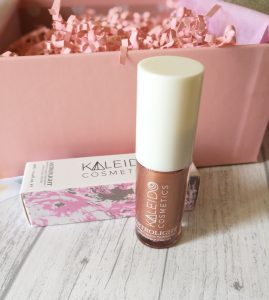 Kaleido Cosmetics – Astrolight Highlighter
This highlighter is gorgeous! The colour is a really nice bronze so absolutely perfect for the summer. It blends really easily with a beauty blender and leaves a sheen that lasts all day. I really have no complaints about this product and I think it's worth the £13 price tag.
So it was definitely mixed reactions from me on the August Glossybox. Some products I really love and some I think were completely pointless. Still, for a tenner you really can't complain!
If you fancy getting your own Glossybox then follow this link and get 20% off your first box! https://www.glossybox.co.uk/referrals.list?applyCode=CARLY-R25
If you had this month's box then let me know your thoughts in the comments.