My Veggie Pasta is a recipe I get asked for quite a lot on Instagram. To be completely honest, it is thrown together out out whatever I have in the cupboards and fridge and it changes every time I make it. Tonight though, I tried to take notice of what went in but it is so versatile that you can make it with whatever you have to hand.
It's a great way of using up any wrinkly veg you may have lying around and you can always add some chicken if you wanted some meat in it.
Veggie Pasta is a favourite in our house. We have it almost once a week and I can quite easily make mine gluten free by using gluten free pasta. I just separate some of the sauce once cooked and stir it in with my cooked pasta then add the normal pasta to the big pan for the others.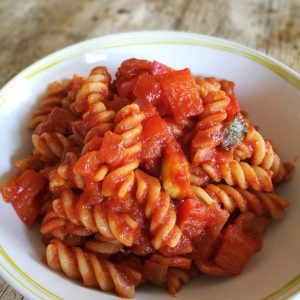 Ingredients (Serves 4)
1 pepper
1 small courgette
1 onion
8 medium sized mushrooms
2 tsp of lazy garlic
1 carton of passata
2 tbsp of tomato puree
1 tsp of mixed dried herbs,
1 tsp of smoked paprika
1 tsp of garlic powder
1 tsp of onion powder
1.5 tsp of Cajun seasoning
Enough pasta to feed 4
Method
Fry off the onion, garlic and pepper for a few minutes until softened then add the mushrooms.
Pour the carton of passata into the pan then add the tomato puree and all the seasoning and stir well.
Bring to the sauce to the boil then reduce the heat and let it let simmer. The sauce will slowly thicken so if it needs thinning a touch just add a little water.
At this point begin cooking your dried pasta as the packaging directs. Make sure you are stirring your sauce every so often to avoid it sticking to the pan.
Once the pasta has cooked and the sauce has thickened, add the pasta in to the sauce and stir well, making sure the pasta is completely coated.
Serve, top with a little cheese if you fancy, and enjoy!