Chinese Fakeaway Satay Chicken With Peanut Sauce
Chinese Fakeaway Satay Chicken has got to be one of the greatest discoveries I have made when it comes to healthy food.
It all started when we had friends over for dinner and made I a low fat Chinese feast! This was just one of the dishes but it's now become one of our favourite meals. You can serve it with whatever you fancy but egg fried rice is pretty easy to make.
I now make this gluten free by using Tamari instead of soy sauce. Chinese is basically a no-go when you're gluten free so this makes a great replacement.
I also make it Dairy Free by swapping the yoghurt for a Soy alternative. This works just as well and I can't taste a difference.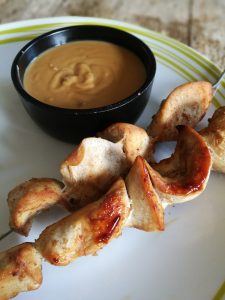 Ingredients (makes enough for 4 skewers)
For The Chicken
375g of diced chicken
2 tbsp of light soy sauce
1 tbsp sweetener
1 tsp of lazy garlic
1 tsp of cumin
For The Sauce
1 and a half tbsp of peanut butter
60ml water
1 tbsp of light soy sauce
1 tbsp sweetener
1 tbsp of low fat natural yoghurt
Half a tsp of lazy garlic (thoroughly drained of the vinegar)
Method
Mix together the soy sauce, garlic, sweetener and cumin then coat the diced chicken with the sauce mix. Leave to marinate for at least 2 hours (I made mine in the morning ready for our evening meal).
When ready, skewer the chicken pieces and either grill or I pop mine in the oven for 20-25 minutes on 180°.
While that's cooking, make the sauce. Put the peanut butter and water in a pan over a medium heat and let it simmer for 5-10 minutes until it is smooth and slightly thicker. Add the garlic and remove from the heat completely to let it cool. Once slightly cooler, stir in the soy sauce, sweetener and fromage frais, mixing well. You can put it back on a low heat to warm through slightly more but keep stirring so it doesn't separate.
When the chicken is cooked through, serve with the sauce and whatever side you choose. I personally enjoy it with some homemade Egg Fried Rice.
Enjoy!