I love these mini quiches as an easy, batch cooked, take to work lunch. They're gluten free, low fat and really tasty! The recipe makes 12 so they last a couple of days in the fridge and they're a great way of using up some of the wrinkly veg you may have lying around.
I don't like cottage cheese on its own so please don't be put off if you're like me in that sense, honestly, you won't be able to tell once they're cooked!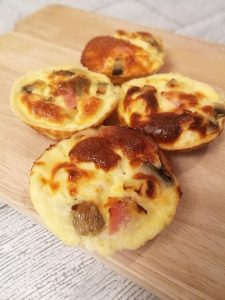 Ingredients (Makes 12)
300g of low fat cottage cheese
4 eggs
Some ham/cooked bacon (fat removed)
Mushrooms
Onion
Whatever else you fancy
Method
Mix together the cottage cheese and eggs. If you really can't deal with the lumps in the cottage cheese then you can always chuck it in a food processor to really get rid of the lumps.
Add some ham/cooked bacon, diced mushrooms and other veg to 12 silicone cases. Top up the cases with the egg and cheese mix and give the contents of each case a little stir to mix it all up a bit. Bake in the oven on 180° for around half hour or until the tops have gone golden.
You can change what vegetables you put in these and make different flavours. I personally think this i a great way of using up wrinkly vegetables but I have also used defrosted frozen veg such as peppers before. There are no limitations on what you can make and of course, you don't have to make these as mini ones either. You can make one big one in a cake tin but be aware these will stick which is why I use silicone cases.
Have you made this recipe? Let me know in the comments below.